Sweet Corn Dhokla recipe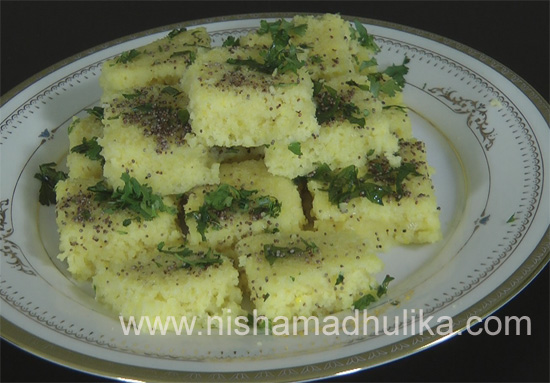 Today we will prepare Sweet Corn Dhokla which not only has a unique taste but is also nutritious as it is made with very less oil. You can have it for breakfast or as a tea time snack.
Ingredients for Sweet Corn Dhokla
Sweet Corn - 2
Suji (semolina)/Rawa - 1 cup
Curd - 1 cup
Salt - 3/4 tsp
Ginger - 1" long piece (grated)
Lemon - 1
Eno powder - 3/4 tsp
Oil - 2 to 3 टेtbsp
Rie - 1 tsp
Curry leaves - 10 - 12 sprigs (cut into thin strips)
Green chillies - 1 to 2 (cut length wise into 2 halves)
Green coriander (dhaniya)  - 1 to 2 tbsp (finely chopped)
How to make Sweet Corn Dhokla
Put curd and Suji in a big bowl and mix the two till they form a uniform mixture.
Until this mixture ferments let us grate the sweet corn and prepare its paste. Put Suji-curd mixture to this sweet corn paste. Now add salt and ginger; mix thoroughly. Squeeze lemon juice in the mix and blend properly. Mix all the ingredients properly then leave this mixture aside for 5 minutes. Till then Dhokla will we ready to be cooked.
Take a utensil big enough to fit a plate with Dhokla, pour 2 1/2 cups of water in this utensil, turn on the gas and place a stand in the utensil on which the plate is to be kept. Cover the utensil so that steam is formed at a quicker rate.
Grease the plate with some oil.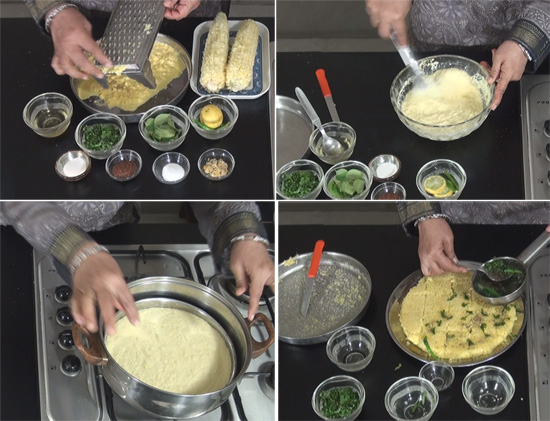 We will now put Eno powder, as air bubbles start to appear pour Dhokla mixture in the plate. Steam has started forming from the water so place the plate with Dhokla mix on the stand. Cover the utensil and allow Dhokla to cook in steam for 20 minutes. Once steams starts to form, lower the flame only to the extent where steam is constantly formed.
After 20 minutes check Dhokla by poking it with a knife. If the knife comes out clean without any mixture stuck to it then Dhokla is cooked.
Using a knife separate Dhokla from the plate along the edges. Place another plate over it then overturn the plate with Dhokla and it will come out on the other plate. Cut Dhokla with a knife into your desired pieces. Now we need to apply Tadka over the Dhokla.
Tadka
Heat oil in a small pan, put Rie in hot oil. After Rie is roasted add carry leaves and green chillies. Fry fo 1-2 minutes. Pour this Tadka all over dhokla with a spoon  then garnish with green coriander.
Sweet Corn Dhokla is ready. Serve with green coriander chutney or coconut chutney and savour the taste..!
Other Dhokla Recipes:
Sweet Corn Dhokla recipe video in Hindi

Tags
Categories
Sweet Corn Dhokla recipe
Nisha Madhulika
Rating:

5.00

out of

5