Rice Papdi Recipe - Chawal ki Papdi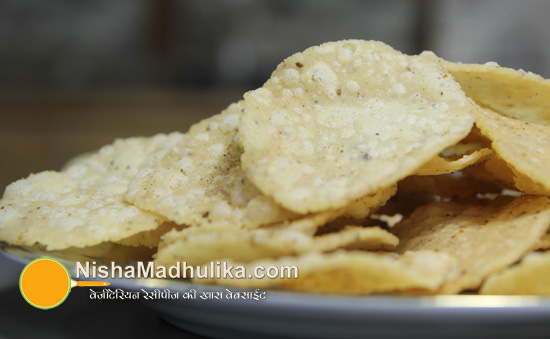 We often make crispy papdi with gram flour and refined flour. Apart from these two crispy papdi, you'll surely like the crunchy papdi prepared with rice flour.
हिन्दी में पढिये : Rice Papdi Recipe - Chawal ki Papdi
Ingredients for Rice Papdi Recipe
Rice flour - 3/4 cup (100 grams)
Salt - 1/4 tsp (as per taste)
Carom seeds - less than 1/4 tsp
Black pepper - less than 1/4 tsp, coarsely ground
Oil - 2 tsp (for kneading dough)
Chaat masala - 1/2 tsp
Oil - for frying papdi
How to make Chawal ki Papdi
Take flour is a big bowl, add salt, carom seeds, black pepper and 1 tsp oil to it. With help of water, knead soft dough same as required for making chapatti (for kneading this much quantity of dough we have used more than 1/2 cup of water). Pour some oil over the kneaded dough to grease it. Bind it really well and make a one big dough ball. Now wrap this dough ball in thin polythene sheet or cling film nicely.
Microwave the dough ball wrapped in cling film on highest temperature for 1 minute. Dough is now slightly cooked and has turned bit stiff as well. Unwrap the dough ball and place it over a plate. Knead it immediately until soft. Grease your hands with some oil and knead until soft and smooth. Break small lumps from the dough. With this much quantity of dough 22 to 24 dough balls can be prepared. Take one dough ball and roll it out in a thin papdi. Papdi can be rolled out very easily. In case, it sticking, place the dough ball over a polythene sheet and roll it out thinly. Likewise roll all papdi.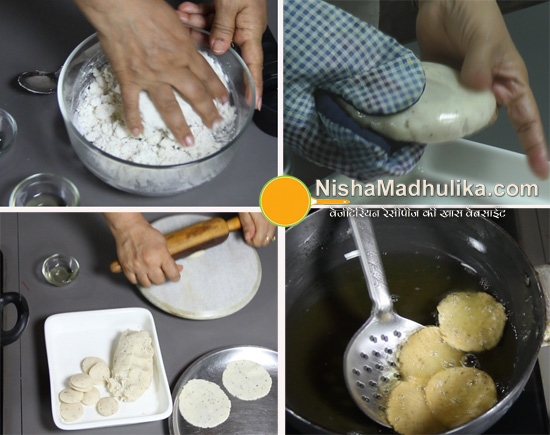 Place enough oil in a wok and allow it to heat sufficiently. When oil is hot, place 4 to 5 or as many papdis as possible in to it and fry on low flame until it turns golden brown in color from both sides. Take out the fried papdis in a plate with absorbent paper. Similarly, fry rest of the papdis as well. Sprinkle some chaat masala over the piping hot papdi, so that it sticks on the surface. Allow the papdis to cool and then store them in any air tight container and relish eating for up to 2 months.
Suggestion:
Kneaded dough can be cooked in steam as well.
Don't fry papdi in too hot or less hot oil. Oil should be sufficiently heated.
Rice Papdi Recipe Video - Chawal Papdi Recipe Video
Tags
Categories
Rice Papdi Recipe - Chawal ki Papdi
Nisha Madhulika
Rating:

5.00

out of

5