Flax Seeds Powder Chutney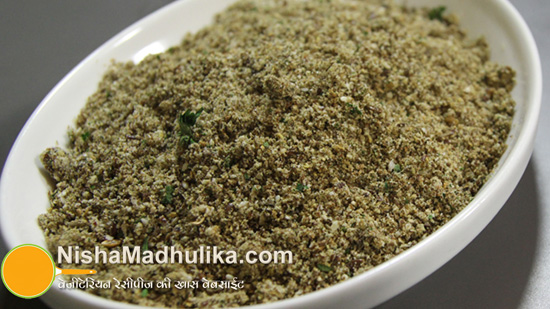 Flax seeds are dark brown in color. One should include antioxidant flax seeds in thier daily diet as these are full of proteins, fibre, vitamin B1, minerals and important fatty acids like Omega - 3, Omega - 6.
हिन्दी में पढिये : Flax Seeds Powder Chutney
Ingredients for Flax Seeds Podi
Flax seed - 1/2 cup
Curry leaves - 1/2 cup
Coriander seeds - 4 tsp
Dry red chilly - 4
Dry coconut - 1/2 cup (grated)
Peanuts - 3-4 tbsp
Sesame seeds - 2 tbsp
Cumin seeds - 2 tsp
Black pepper - 2 tsp
Black salt- 2 tsp
Salt - 1/2 tsp
Asafoetida - 2-3 pinch
How to make Flax Seed Chutney Powder
For making flax seeds chutney, roast the flax seeds. For this, preheat a wok and add flax seeds into it. Stir constantly and roast the flax seeds on medium flame. Once you hear crackling sound that means its roasted. It takes 2-3 minutes in roasting these seeds. Flax seeds get puffy once roasted. You can even eat this to check. Roasted flax seeds are crispy and taste good. Take out the roasted flax seeds in a plate.
Place curry leaves in wok and saute on low-medium flame for 3 minutes. Keep stirring them constantly. Roast until they get dry and take them out in a separate bowl.
Now add coriander seeds, red chilly and cumin seeds in a wok. Stir constantly and roast until they turn slightly brown in color. After sauteing for 1 minute, mix them with roasted flax seeds. Now dry roast sesame seeds until they change in color and take them out in a plate.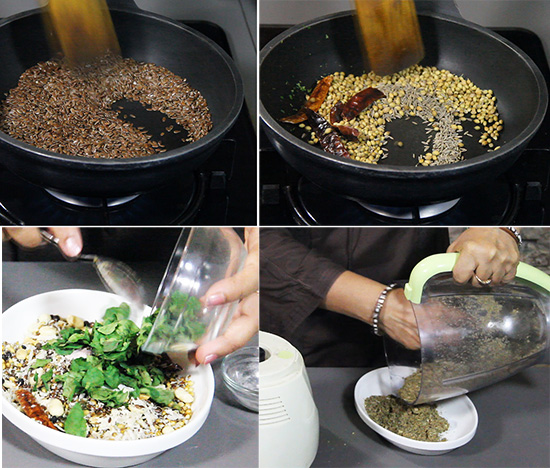 Also roast the grated coconut until they change in color and take them out in a plate. After this roast peanuts and black pepper, take them out in a plate. Allow these ingredients to cool. Once all ingredients cool, mix all ingredients and add black salt, plain salt, asafoetida and roasted curry leaves in a mixture jar and ground coarsely.
Dry flax seed chutney is ready, take it out in a plate. Serve alsi chutney with paranthas, chapatti or rice. You can even mix this chutney in dal or any sabzi. Alsi chutney can be mixed in flour or stuffed to make a parantha. If added in any sabzi, it enhances the flavor as well nutritional value.
Store the flax seed chutney in air tight container and consume for upto 1 month.
Suggestion:
You can increase or decrease the quantity of chilies as per your taste. If you prefer eating spicy then increase the quantity else omit the use of chilies if you don't like eating spicy.
Flax Seeds Powder Chutney Recipe Video in Hindi
Tags
Categories
Flax Seeds Powder Chutney
Nisha Madhulika
Rating:

5.00

out of

5