How to make Kesar Peda in Microwave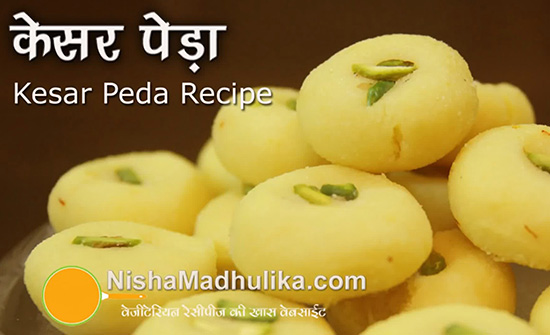 Making sweet, soft and tender kesar (saffron) peda is very easy. Preparing these pedas in microwave is more easy and less time consuming than making them on flame or wok.   
हिन्दी में पढिये : How to make Kesar Peda in Microwave
Ingredients for Kesar Peda
Mawa - 1 cup (250 grams)
Boora - 1 cup (175 grams)
Milk - 1 tbsp
Saffron - 20-25 (threads)
Pistachios - 7-8
How to make Kesar Peda
 Soak saffron threads in warm milk so get a nice color from it. 
Take mawa in a microwave safe bowl and crumble. Place the bowl in microwave and cook for 1 minute. Take out bowl from microwave and stir the mawa nicely with help of spoon. Place back the bowl in microwave and cook for 1 more minute. Again, take out the bowl and stir the mawa really well. 
Now mix saffron milk in mawa and mix well. Cook this mawa again in microwave for 1 minute on maximum temperature. Take out the bowl, stir again and microwave for 1 more minute on maximum temperature. Microwave mawa for approx 4 minutes. Mawa is now roasted.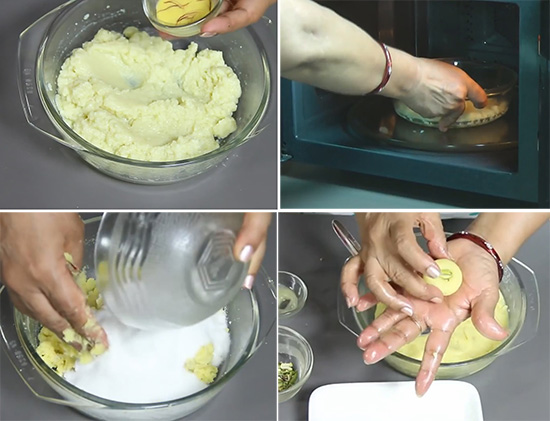 Allow the mawa to cool. When mawa is slightly warm then add boora. Meanwhile thinly slice pistachios. 
When mawa is bit cooled or is slightly warm, add boora and mix well. Grease your hands with some ghee. Take little amount of mixture or 1 tsp mixture, roll it  in a round shape and then flatten gently giving it a shape of peda. Keep 2-3 pistachios slices on the top and press gently. Place the peda in a plate. One by one prepare rest of the pedas. 
Mouth drooling and luscious Kesar peda is ready. Store them in refrigerator and relish eating for 8-10 days. 
Suggestion:
If you'll add boora in hot mawa then mixture can get thin in consistency and it might get difficult in making peda. If this happens then place the mixture in refrigerator and use it day after for making pedas. 
If you add boora in too cooled mawa then the mawa-boora mixture can turn dry and may scatter. This will also make it difficult in making pedas. If this happens add 1/2-1 tsp hot milk and mix well. Now you can use this mixture for making peda. 
Kesar Peda in Microwave Recipe Video in Hindi
Tags
Categories
How to make Kesar Peda in Microwave
Nisha Madhulika
Rating:

5.00

out of

5