Lasore Pickle - Lasoda Pickle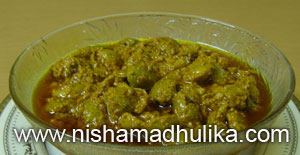 Lasore pickle is prepared in north India. This pickle is very delicious and you can store it for even 1 year. It's very easy to make. Let's make the Lasore Pickle today.
इस पोस्ट को हिन्दी में पढ़ें
लसोड़े का अचार
Ingredients for Lasore Pickle
Lasore – 500 gram 
Asafoetida – less than 1/4 tsp
Yellow mustard – 3 tablespoon (coarsely ground)
Fennel seeds - 1 tsp
Carom seeds - 1/2 tsp
Cumin seeds - 1/2 tsp
Turmeric powder – 1 tsp
Red Chilly powder - 1 tsp
Salt – 2 tablespoon
Red chili powder – 2 teaspoon
Mustard oil – 100 gram (1/2 cup)
How to make Lasoda Pickle
Lasore Pickle Break stems of the lasore and wash them. Put half liter water in a utensil and heat it (water should be enough to submerge the lasore). Add the lasore to the water when it starts boiling. Cover the utensil and let them boil on low flame for 5 minutes. Turn off the burner.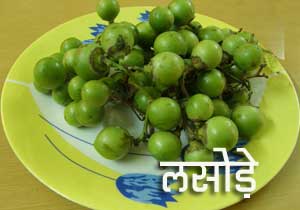 After the utensil has cooled, remove the water and the seed of the lasore. Split the lasore in two parts. The lasore are ready now to make the pickle.
Put 3 tablespoon oil in a frying pan and heat it on a low flame. Add asafetida and after it has fried add turmeric powder and fennel seed powder. Turn off the burner. In this mixture mix the lasore, red chili powder, yellow mustard powder and salt.
Lasore pickle is ready. Cool the pickle and keep it in a jar. It will take 4 to 5 days for the pickle to turn sour. In every 2 days stir and interchange the bottom pickle with the top pickle in the jar. The pickle has become sour and very delicious. Now it can be eaten.
To prevent the pickle from spoilage put the remaining oil in the jar so that the lasore are submerged in the oil. Now this pickle will remain good for about 1 year.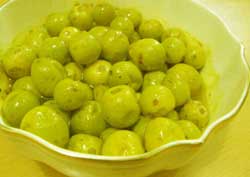 Gunda Pickle Recipe | Lasoda ka Achar Video in Hindi
Tags
Categories
Lasore Pickle - Lasoda Pickle
Nisha Madhulika
Rating:

5.00

out of

5