Buknu Recipe - How to make Buknu Powder?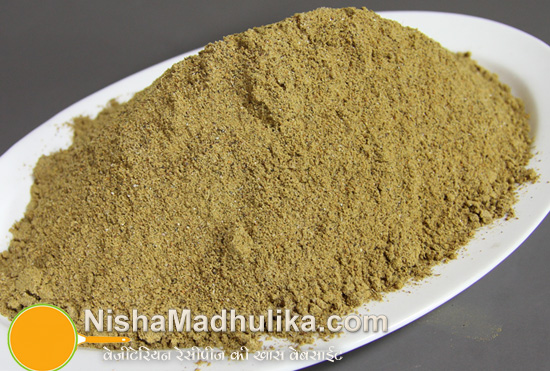 Buknu can be consumed as churan and also can be used as masala. It is very famous in Kanpur. This can be sprinkled on parantha, roti, chaat or can be added in dal or sabzi for enhancing taste. Along with some spices used in kitchen, ayurvedic spices are also used to make buknu which helps improve our digestion.
हिन्दी में पढिये - Buknu Recipe - How to make Buknu Powder?
Ingredients for Buknu Masala
Plain salt - 250 grams
Black salt - 125 grams
Saindha salt (lahori vrat salt) - 50 grams
Turmeric powder - 75 grams
Badi harad - 50 grams
Small harad - 50 grams
Baheda - 50 grams
Dry amla - 50 grams
Cumin seeds -25 grams
Carom seeds - 25 grams
Fennel - 25 grams
Brown cardamom - 25 grams
Black pepper - 25 grams
Saunth - 25 grams
Piper - 20 grams
Byberang - 20 grams
Marod phali - 20 grams
Green cardamom - 10 grams
Nausadar - 10 grams
Asafoetida - 5 grams
Mustard oil - 100 grams
How to make Buknu?
Use clean spices.
Fry some spices: Badi harad, Saunth, turmeric powder, small harad and Baheda.
Take mustard oil in a pan and place it on flame for heating. Place badi harad in heated oil and fry on low flame for 2-3 minute, then take it out in a plate. Fry Saunth for 2-3 minutes on low flame until it turns bit dark in color and take it out in the same plate as well. Fry turmeric also for 2-3 minutes until it changes color. Place small harad in pan and fry for 1 minute. Now place badi harad in pan and fry for 2-3 minutes on low flame. Take it out in the same plate.
Dry roast some spices: dry amla, marod phali, Byberang, brown cardamom, piper, cumin seeds, carom seeds, fennel and asafoetida.
Preheat a pan with heavy base. Place dry amla in pan and roast of low flame for 2-3 minutes by stirring constantly. Take these out in other plate. Now add marod phali in pan and roast on low flame. Take piper and Byberang and roast for 2 minutes on low flame by stirring constantly. Now add cumin seeds, fennel and carom seeds in pan and roast for 1 minute on low flame. Add asafoetida to it and roast for 1 minute. Take out these in same plate.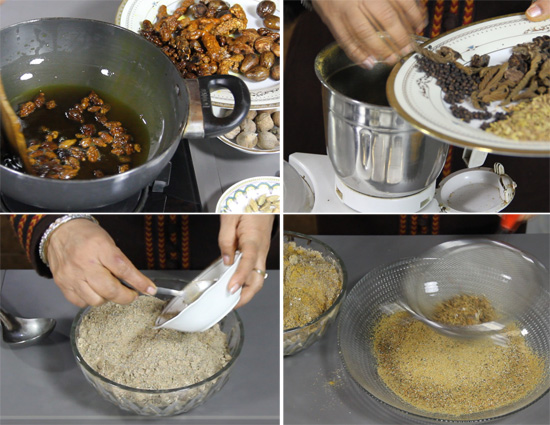 Add rest of the spices without roasting them: Plain salt, black salt, Saindha salt, green cardamom, Nausadar and brown cardamom.
Coarsely grind the big spices so that they can be grounded easily in mixture grinder. Grind Badi harad, turmeric and Saunth coarsely. Grind badi harad and remove the seed from it.
Place all the grounded spices in mixture jar and half the amount of plain salt. Finely grind the spices and take them out in some bowl. Now take roasted spices, add salt and ground them finely as well. Nicely mix all grinded spices.
Strain the roasted masala in sieve. Grind the pieces left above the sieve again and mix again in the masala. Buknu is ready. Store prepared buknu in air tight container and use up to 6 months.
Suggestion:
Many people use different ingredients for making buknu. Some use more spices and some use less spices. You can make buknu without adding any ingredients which is not available.
Buknu Recipe Video - Buknu Powder Recipe Video
Tags
Categories
Buknu Recipe - How to make Buknu Powder?
Nisha Madhulika
Rating:

5.00

out of

5