How to make Undhiyu - Undhiyu recipe with video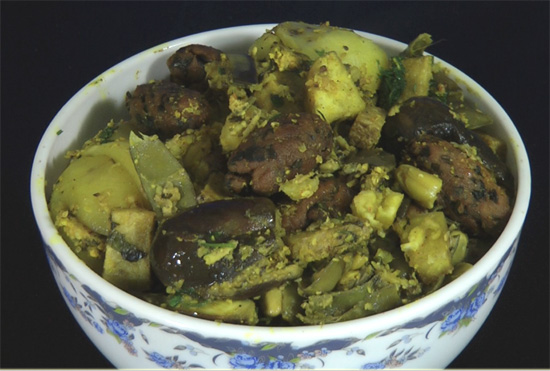 Undhiyu is prepared from different types of vegetables along with numerous spices. It is a unique and tasty dish made usually during winters.
Traditionally, Surti Undhiyu is cooked in an earthern pot. The spices are prepared and stuffed into some vegetables while some vegetables are cut and mixed with spices then placed on a banana leaf in the pot making it a small bag or the vegetables are wrapped with leaves and kept in a pot. Mango leaves is placed on the vegetables and the mouth of the pot is sealed with dough. The ground is dug to make a hole in which a fire is made then the pot filled with vegetables is turned upside down over it. 'Undhiyu', the word means inverted. The vegetables inside the pot are allowed to cook for 1-2 hours on a low flame. Once cooked the vegetables are removed from the pot and served hot.
Undhiyu is served with chutney mixed with sev. Undhiyu can also be eaten alongwith chapati, paranthas or puri. These days, Undhiyu is cooked on the gas using a utensil  with a thick base. Let us now start the preparation of Undhiyu.
Ingredients for making Undhiyu
Vegetables
Beans - 200gms
Small brinjal - 5(100gms)
Small potato - 8(250gms)
Raw banana - 1(150gms)
Sweet potato - 1(150gms)
Yam - 100gms
Spices
Oil - 4-5 tbsp
Heeng (asafoetida) - 2 pinch
Ajwain (Carom seeds) - 1/2 tsp
Salt - add to taste (1 tsp)
Turmeric powder - 1/2 tsp
Red chilli powder - 1/4-1/2 tsp
Coriander powder - 2 tsp
Aamchur (Dried mango powder) - 1/2 tsp
Garam masala - 1/2 tsp
Powdered sugar - 1/2 tsp
Sesame seeds - 2 tbsp
Peanuts - 2 tbsp
Cashew nuts - 2 tbsp
Ginger(grated) - 2 inch long strip
Green chilli(chopped) - 2-3
Coriander(fine chopped) - 1 cup
Lemon - 1
For preparing Muthiya(Chunks)
Gramflour- 1/3 cup
Wheat flour - 1/3 cup
Salt - add to taste(1/6 tsp)
Dhania (Coriander powder) - 1/2tsp
Red chilli powder - less than 1/4 tsp
Turmeric powder - less than 1/4 tsp
Methi (Fenugreek) - 1/2 cup(finely chopped)
Oil - to fry Muthiya
How to make Undhiyu
Wash all the vegetables properly then drain the water.
How to make Muthiya for Undhiyu
Mix all the spices and gramflour together and pour 3 tsp oil to it. With the help of little water knead a dough of this mixture which should be harder than the dough prepared for puri. Cover the dough and leave it aside for 10 minutes.
Make small pieces from the dough made for Muthiya and roll them into 10-11 rolls of 2 inches in length. Pour oil in a pan and heat. Put the Muthiya into hot oil and fry. When these turn brown and crispy take out from pan. Muthiyas are ready.
Peel yam, sweet potatoes and cut into 1/2 inch long pieces. Fry the pieces till they are soft and crispy then take them out of pan.
Grind roasted sesame seeds, peanuts and cashew nuts into a coarse powder. Grate ginger, chop green chillies and coriander(keep some of the chopped coriander aside) then mix all of these in a plate. Add salt, turmeric powder, red chilli powder, Dhania (powdered coriander), dried mango powder, garam masala, lemon juice and mix well. The spices required for Undhiyu are now ready.
Cut banana into  1/2 cm round pieces without peeling the banana. Remove the edges from the beans. Cut them into 1 inch long pieces and split them into halves. Cut the brinjal's cap and make 2 long cuts in such a way that it is not separated from the base. Peel potatoes and make 2 cuts in a way that it is joined on one side.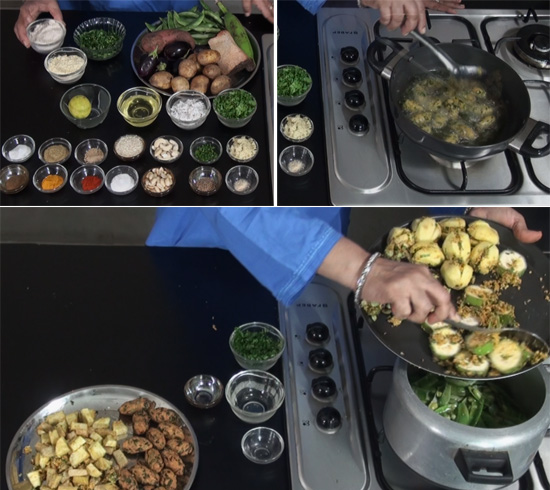 Fill potatoes and brinjals well with the spices and mix the remaining spices with the already cut banana, yam, sweet potatoes and beans.
Pour 4 tbsp oil into the cooker and heat. Add Heeng, Ajwain and 1/4 tsp turmeric powder. On roasting ajwain add beans, pieces of banana, less than 1 cup water, vegetables filled with spices and vegetables mixed with spices also into the cooker. Close the lid and allow Undhiyu to get cooked on a low flame for 15 minutes. Don't let much pressure to be created in the cooker and let the vegetables cook slowly from the steam.
Turn off the gas. Let the pressure escape from the cooker. Then, open the lid and add the fried yam, sweet potatoes and Muthiya without stirring the vegetables. Close the lid and cook vegetables for another 5 minutes. Open the lid and garnish it with coriander leaves. Undhiyu is prepared. Pour steaming hot Undhiyu into bowls and serve with hot puri, parantha or chapati.
Suggestion:
You can also add green garlic(chopped or paste) while preparing spices for Undhiyu as per desired taste.
Undhiyu Recipe video in Hindi

Tags
Categories
How to make Undhiyu - Undhiyu recipe with video
Nisha Madhulika
Rating:

5.00

out of

5