Til Gud Bati Recipe - Tilkut Gud Mawa Bati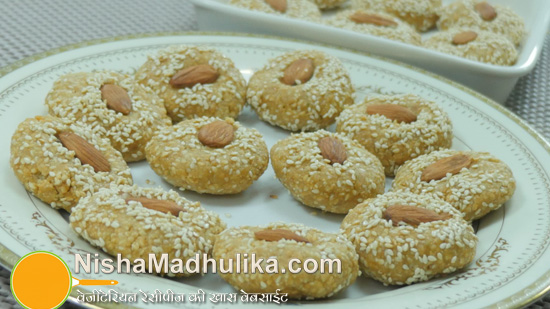 Usually we prepare numerous food items using Makar Sankranti like til ladoo, til tikki recipe, tilkut and so on. You will surely like this til mawa bati recipe as well.
हिन्दी में पढिये : Til Gud Bati Recipe - Tilkut Gud Mawa Bati
Ingredients for Til Mawa Bati
Sesame seeds - 2 cups (250 grams)
Mawa - 1 cup (250 grams)
Jaggery - 1 cup (250 grams)
Ghee - 2 tbsp
Almonds - 15 to 20
Green cardamom powder - 1 tsp
How to make Tilkut Gud Mawa Bati
Roast the sesame seeds
Start with roasting the sesame seeds. For this, turn on the flame and let it heat. Add sesame seeds to this wok and roast until there is slight change in the color and they get fluffy. Keep stirring constantly. Then turn off the flame. Sesame seeds are roasted well, transfer them on to a plate and cool them down.
Roast the Mawa
Meanwhile, let us roast the mawa. Crumble the mawa and add it to the heated wok. Stir constantly and roast until there is change in color. When the mawa turn little dark in color, and turns fragrant, transfer it to a plate. Mawa is roasted now. 
Melt the ghee 
After this, add 1 tsp ghee in the same and let it melt on low flame. The moment the ghee melts, add jaggery to it and let it melt on low flame. Stir at regular intervals making sure that it doesn't stick to the wok. 
Grind the sesame seeds
Meanwhile let us grind the sesame seeds. Take 2 tsp sesame seeds in a bowl separately and grind the rest. Place the sesame seeds in a mixer jar and ground them little coarsely.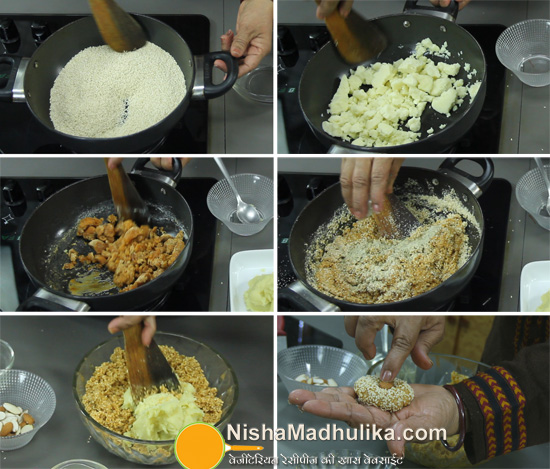 Mix sesame seeds to the jaggery
When the jaggery melts and there is nice simmer in the syrup, turn off the flame and mix coarsely ground sesame seeds to it, followed by cardamom powder and then mix everything really well. Sesame seeds and jaggery mixture is now ready, transfer it to a bowl and let it cool down a little.
Divide the almonds into half for garnishing.
Mix the mawa
When the mixture cools down, add mawa to it and mix everything really well. Mixture is now done and ready. It is now little warm, let us start making the bati else it will get difficult to bind the batis if the mixture cools down too much.
Prepare the bati
Take small lump from the preapred mixture and roll it out giving round shape. Gently press down the dough  ball and bind well giving it a shape like peda or bati. Coat this bati with some sesame seeds and then place one half piece of almond over it. Set it nicely over the bati. Similarly, prepare rest of the batis as well. 
Til mawa bati is ready, allow it to cool down. Store in any container and relish eating for up to 8 to 10 days. 
Suggestions:
Don't roast the sesame seeds to much else they might taste bitter.
When mixing jaggery and sesame seeds, keep in mind that the mixture is not too warm or too chilled. Keep it little warm while mixing the ingredients and then prepare the batis. 
Read these as well:
Til Gud Bati Recipe - Tilkut Gud Mawa Bati - Makar Sankrati Recipe
Tags
Categories
Til Gud Bati Recipe - Tilkut Gud Mawa Bati
Nisha Madhulika
Rating:

5.00

out of

5