Sabudana Namkeen for Fast/Navratra Recipe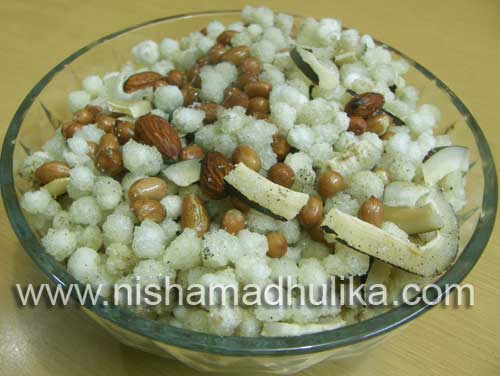 As we all know that special Namkeen are available for people who observe fasts. You can buy these special namkeen consumed in fasting from the market or can even prepare them at home. It can be made easily at home and will definitely be more good than the namkeen available in the market.
Namkeens eaten in fasts can be made in various ways. You can use peanuts and sago (sabudana) to make namkeen. You can add any kind of mewa as er your taste and preference into it to enhance its taste. Just prepare the namkeen one day and eat it for all 9 days of the fasting. I am sure you will definitely like it.
हिन्दी में पढें - Sabudana Namkeen mixture Recipe in Hindi
Ingredients for Sago (Sabudana)  Namakeen for fast/Navratra
Sago ( sabudana) - 200gms. (1/2cup)
Peanuts - 200gms. (1 cup)
Almonds - 15-20
Refined oil or ghee - to fry.
Coconut - cut into thin slice (1/2 cup)
Saindha salt - 1 tea spoon.
Black pepper - 1/2 tea spoon.
Method - How to make Sago (Sabudana)  Namakeen for fast/Navratra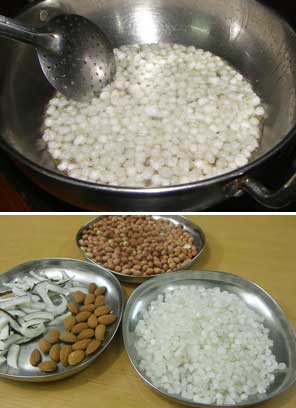 Take a big pan and put sago in it. Pour 2 tea spoon water, mix it well and leave the mixture for 10 minutes so that they become moist. Clean the peanuts and keep them in a small bowl.
Take a pan and heat 1 cup oil into it. Once the oil heats up well put 1 table spoon sago and lower down the flame. Stir the mixture with a ladle and let the sago rise. If the sago are jumping in the pan after rising then you can cover the pan with a plate for a while. Once all the sago rises take them out on a plate. Break and eat the sago to check whether they are properly cooked from the core also. Put the remaining sago and fry them in the same way.
Now put peanuts into the oil and fry them on low flame. Stir them continuously till they turn light brown in colour. It would take 3-4 minutes to fry the peanuts properly.
Fry the almonds and coconut also in the oil and take them out in a tray.
Mix all the fried ingredients and add ground saindha salt and black pepper into the mixture. Your Sago Namkeen for fast is ready. You can eat it during any time of the day of your fasting days. Let it cooldown and eat it today also and store the remaining namkeen in an air-tight container for next day or coming 9 days of fasting.
Tags
Categories
Sabudana Namkeen for Fast/Navratra Recipe
Nisha Madhulika
Rating:

5.00

out of

5