Chana Kurkure Namkeen – Chana Khokhle Namkeen Recipe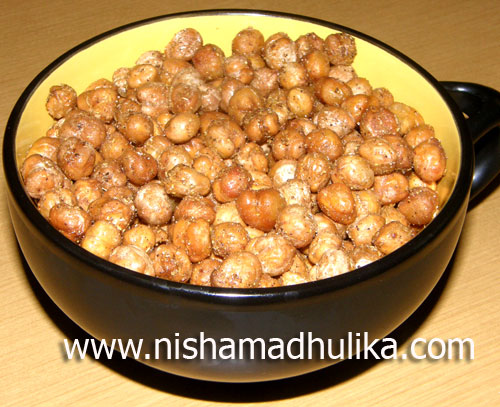 Have you tried Chana Khokle Namkeen? Chana Khokle Namkeen are very crispy and  taste awesome. During my childhood Chana Khokle Namkeen was made frequently in my home. Let us prepare Chana Khokle Namkeen.
- Ingredients for Chana Kurkure Namkeen
Kabuli Chana - 200 grams (1 cup)
Oil - to fry Chana
Spices for Chana
Salt - add to taste ( 3/4 tsp)
Clove - 5 to 6
Black pepper - 1/4 tsp
Red chilli powder -  1/4 tsp
Amchur(mango) powder - 1/2 tsp
Coriander(dhaniya) powder - 1/2 tsp
Heeng(asafoetida) - 1 pinch
- How to make Chana Kurkure Namkeen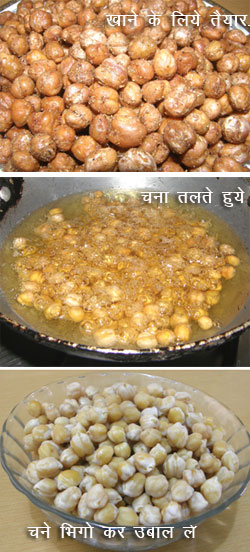 Wash Kabuli Chana, soak in water for 5-6 hours or the entire night.
Remove excess water, wash Chana and put it in the cooker. Add 100 grams or 1/2 cup water and place on the gas to boil. As pressure starts to build in the cooker turn off the gas so that Chana does not turn too soft just a little soft. After you open the cooker, take Chana out and place on a strainer, let all the water drain.
Put boiled Chanas in a thick, clean cloth for 3 -4 hours in the shadows to dry up excess water.
Pour oil in a thick pan(kadhai) and heat. Put as many Chana in hot oil as long as they remain submerged. Keep the gas on a medium flame, stir Chana from time to time with a frying ladle. In 3-4 minutes Chanas will start floating on oil, later all Chanas will float. These Chanas will take some time to turn brown, fry till they become brown and crispy. Take out fried Chanas and keep them in a strainer with a plate or bowl or plate underneath(to store excess oil drained out from Chanas). Fry all the Chanas and prepare them in this similar manner.
Chanas are soaked(in water)  in such a a way that they get bigger in size after absorbing water. When they are fried the shape remains same but they become hollow from the inside as the water dries up. This makes them very tasty and crispy. They are also known as Khokhle Chana Namkeen.
Once you fry the Chanas, grind the mentioned spices and mix them together. Kurkure Chana Masala Namkeen is ready. Store crispy Kurkure Chana Masala Namkeen in an air tight container, whenever you feel, up to 2 months, take Kurkure Chana Masala Namkeen out of the container and munch along with hot tea.
Chana Kurkure Namkeen – Chana Khokhle Namkeen Recipe video in Hindi

Tags
Categories
Chana Kurkure Namkeen – Chana Khokhle Namkeen Recipe
Nisha Madhulika
Rating:

5.00

out of

5