Gur-Mewa Ke Ladoo – Jaggery Windfall Sweets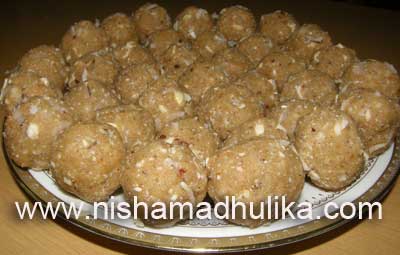 Generally, Gud-Mewa Ki Ladoo (Jaggery Windfall Sweets) is prepared for pregnant women. You can prepare it without Saunth (ginger), if you want the entire family to eat them.
This Laddoo is very tasty and it gives a lot of energy to the one who eats it.
इस पोस्ट को हिन्दी में पढ़ें
उन्नीअप्पम
Ingredients for Gud-Mewa Ke Ladoo
Jaggery- 600 Gms
Almonds- 200 Gms
Cashew nuts- 100 Gms
Coconut- 100 Gms
Gums-100 Gms
Cadamom-8 to 10
Wheat- 200 Gms
Ghee- 300 Gms
Dry gingers- 25 Gms
How to make Gur Mewa Laddoo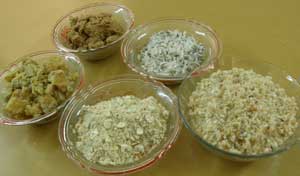 Grind almonds into powder in a mixer. Cut the cashew nuts into thin stripes and grate the coconuts.
Break the gum into small pieces. Pour 100 gm ghee into a thick-bottomed frying pan and heat it. Put one tablespoon of gum into the frying pan.
The gum will swell up like pop-corn. Take out the gum on a plate after it turns brown. Let the gum cool, till it reaches the room temperature. Spread a polythene sheet on a platform, then put the gum on it and grind it gently by using the roll. Then peel the cardamoms and grind them properly.
Put 150 Gms ghee into the bowl, when it becomes hot put the flour into the bowl and stir it until it turns brown. Take out the brown flour in a plate.
Break the jaggery into small pieces, and cook it with the rest of the ghee until it melts. Use a stirring spoon to melt it properly. The ladoos mixture is ready.
You can prepare Ladoo in the size you like. Eat the ladoos while they're fresh. They will very tasty. You can keep these Ladoos in an airtight container. These Ladoos are ok to eat till one month from prepare.
Gur Mewa Laddoo Recipe Video in Hindi
Tags
Categories
Gur-Mewa Ke Ladoo – Jaggery Windfall Sweets
Nisha Madhulika
Rating:

5.00

out of

5