Kaju Pista Roll recipe - Cashew Pistachio Rolls - Holi Recipes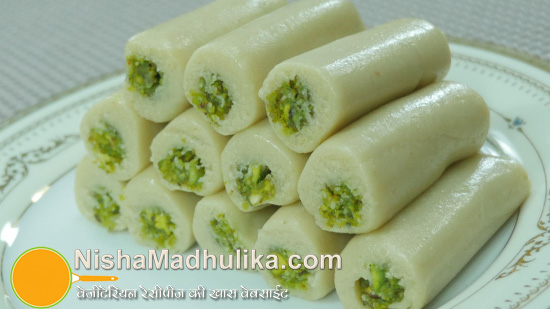 Covered with cashew layer and stuffed with dry fruits filling these kaju pista rolls makes everyone drools. Prepare this toothsome sweet this holi and enjoy.
हिन्दी में पढिये : Kaju Pista Roll recipe - Cashew Pistachio Rolls - Holi Recipes
Ingredients for Cashew Pistachio Rolls
For covering
Cashew Nuts- 1 cup ( 150 grams)
Sugar - 1/3 cup ( 75 grams )
For stuffing
Pistachio - 1/3 cup ( 30 grams )
Almond - 1/3 cup ( 30 grams )
Powdered Sugar - 2 tbsp ( 20 grams)
Milk - 2 to 3 tsp
Cardamom Powder- 1/4 tsp
Green Food Color- Less than 1/4 Pinch
Ghee - 3 tsp
How to make Kaju Pista Roll
Grind the cashews in a mixture jar and make a powder. Transfer the prepared powder in a bowl and then strain it through a sieve so that thick chunks can be separated. Discard these remaining chunks.
After this, keep few pistachios and finely grind the remaining along with almonds into a powder. Transfer the prepared powder in a bowl and finely chop the whole pistachios.
Prepare the stuffing
Mix chopped pistachios into almond-pistachio powder, followed by powdered sugar and mix everything really well. Also mix 1/4 tsp green cardamom powder to it. Take 2 tsp milk in a small bowl and mix some green food color to it. Mix this color mixed milk in the mixture and stir well. Bind the stuffing really well.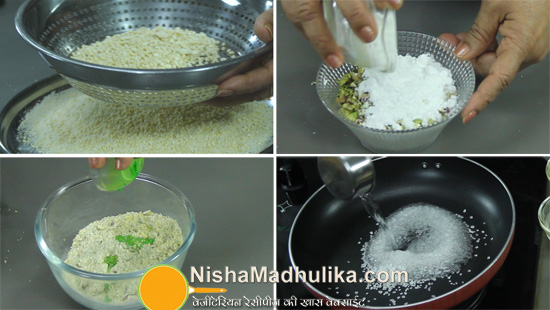 Prepare the covering
Take sugar and water in same quantities. Cook until the sugar melts completely. After this, reduce the flame and mix cashew powder and 3 tsp ghee to it. Stir and cook until it gets thick and dense in consistency. Keep stirring constantly and keep the flame medium. Make sure there are no lumps in the mixture. Mixture is now ready, don't over cook it else it can get stiff.
Check the mixture
Take some paste into the bowl and let it cool down. It should get little solid and turn into a dough ball. Now transfer the paste to a bowl and let it cool down a little.
Roll out square sheet
Cover a rolling board with a polythene sheet for making the covering. Apply some ghee over this sheet and transfer the slightly warm kaju paste over it. Bind it well with your hands and roll into a big lump. Now flatten it slightly with your hands. Now with help of rolling pin roll it out from all sides evenly. Keep rotating the board and roll out the mixture little thick. Square sheet for rolls are ready.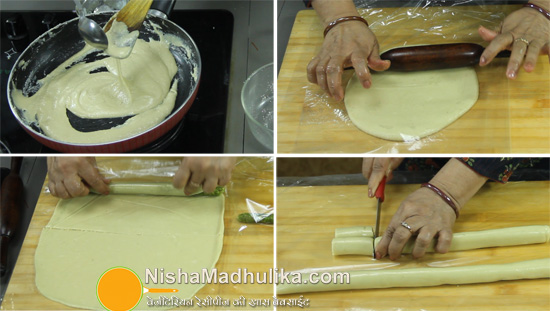 Prepare rolls
After this, divide the stuffing into two halves. Take one part and bind it well with your hands. Now place it over the rolling board and roll into long little thick log using your hands. Keep the length same as that of cashew sheet. Likewise roll the other portion of stuffing as well.
Cut the square sheet into two equal parts from the center. Take one roll of stuffing and place it over the cashew sheet. Now with help of polythene sheet very gently make a roll. Make sure that the rolls doesn't get loose. Roll it little tightly. Roll it a little more to make it thin. Make another roll similarly. Take these rolls in a plate and place them in a refrigerator to set.
Once they set, cut them in 2 to 2.5 inch equal chunks. Kaju pistachios roll are ready. Dry fruits kaju pistachios rolls are ready. Make them for any special occasion or festivals and serve to your dear ones. This sweet can be stored for up to 15 to 20 days.
Suggestions
Take the cashew chunks (pieces) for making kaju rolls as these are more inexpensive and can be used for making the powder.
While making stuffing, make sure you bind it well after adding the milk. 
While grinding the cashews make sure that they don't get turn into a paste and remain powdered. Do strain the cashew mixture so that thick pieces can be separated easily.
Stir the sugar powder constantly and cook until they get thick in consistency.
Check the paste if it forms a soft ball.
When the paste cools down a little, only  then keep it to set else it will not get stiff and roll will not be prepared.
We have garnish the kaju rolls with silver wark as it is not healthy for health.
Kaju Pista Roll recipe - Cashew Pistachio Rolls - काजू पिस्ता रोल - Holi Recipes
Tags
Categories
Kaju Pista Roll recipe - Cashew Pistachio Rolls - Holi Recipes
Nisha Madhulika
Rating:

5.00

out of

5