Malpua Recipe - Rajasthani malpua using Milk Powder - Malpua banane ki vidhi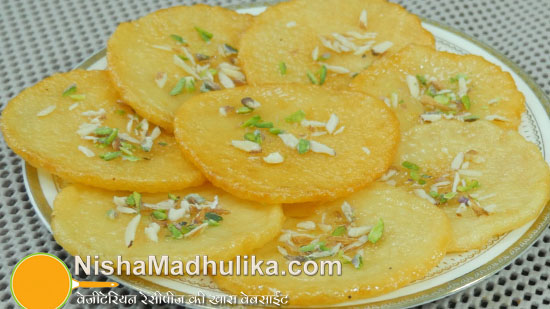 As delicious as mawa malpua and super easy to prepare these scrumptious milk powder malpuas can be prepared for any festival or special occasion.
हिन्दी में पढिये : Rajasthani malpua using Milk Powder - Malpua banane ki vidhi
Ingredients for Rajsthani malpua using Milk Powder
Refined flour - 1/2 cup (60 grams)
Milk powder - 1/2 cup (60 grams)
Sugar - 1 cup (250 grams)
Milk - 1 cup
Almonds - 6 to 7 (finely chopped)
Pistachios - 10 to 12 (finely chopped)
Green cardamom - 4 (coarsely ground)
Ghee - for frying malpuas
How to make Malpua
Prepare batter
Take refined flour and milk powder in a big mixing bowl. Now add milk in small portions and prepare a smooth batter. If the batter appears too thick then add some more milk and mix well. The batter should be little running in consistency. For this much of batter 1 cup of milk is used. Keep the batter aside for 15 to 20 minutes to set.
Prepare sugar syrup
Meanwhile prepare sugar syrup. For this, take some sugar and equal amount of water (1 cup) in a vessel. Turn on the flame and let the sugar melt completely. Keep stirring at regular intervals. After the sugar dissolves in water, cook it for 2 to 3 more minutes.
Check the sugar syrup
Take few drops of sugar syrup in a bowl and take it between your thumb and finger. Strech apart to check if it is gooey like honey. If it gets sticky and gooey like honey, then the syrup is ready. Turn off the flame and take off the vessel over a stand. Mix some cardamom powder to the sugar syrup.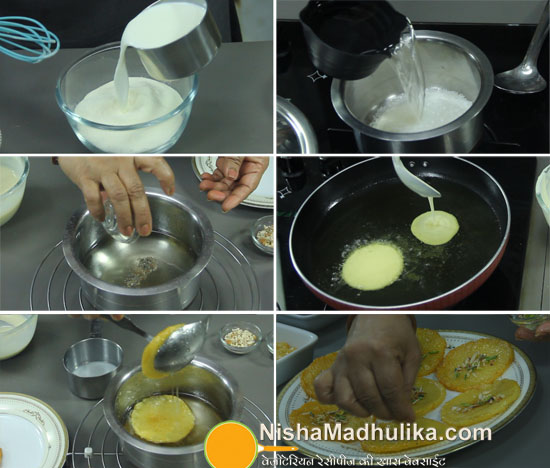 Fry the malpuas
Heat enough ghee in a pan. When the ghee is right hot, pour some batter gradually to the wok and fry the malpua on low flame. When the malpua is slightly roasted from beneath, flip the side and continue frying until it turns slightly brown in color.
When the malpua is roasted from both the side, drain it out using two ladles on a plate. Squeeze out extra ghee and then place it on a plate. Similarly fry rest of the malpuas as well.
Drench the malpuas in syrup
Drop the malpuas into the sugar syrup and let them remain drenched in sugar syrup for 2 to 3 minutes. After 3 minutes, squeeze out extra syrup from the malpuas and place them on a plate. Take out the remaining malpuas as well. It takes 5 to 6 minutes for frying malpuas at once.
For serving, take malpuas on a plate and sprinkle some chopped almonds and pistachios over these. Sweet and super sumptuous milk powder malpuas are ready. Make them for any festival or special occasion and serve along rabri.
Suggestions
While making the batter make sure there are no lumps in it and it should be smooth in consistency.
Do keep the batter aside for 15 to 20 minutes to set and prior frying the malpuas whisk the batter well.
Fry the malpuas on low flame in slightly hot oil.
Add water in same quantity as sugar. When sugar melts in water, cook for 2 to 3 minutes and check later.
Sufficient for making 1o to 11 malpuas.
Malpua Recipe - Rajasthani malpua using Milk Powder - Malpua banane ki vidhi
Tags
Categories
Malpua Recipe - Rajasthani malpua using Milk Powder - Malpua banane ki vidhi
Nisha Madhulika
Rating:

5.00

out of

5