Kala Jamun recipe – How to make Kala Jamun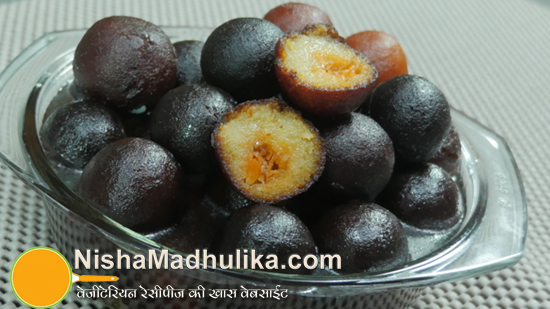 Kala jamun is one of the most popular and favorite sweet dish. It is also known as Kala Jaam. Kala jamun and gulab jamuns are prepared with the same method, but kala jamun is slightly hard on the surface and gets little dark on the surface. These tempting jamuns are little stiff on outside and stuffed with dryfruits inside and sweet. 
हिन्दी में पढिये : Kala Jamun recipe – How to make Kala Jamun
Ingredients for Kala Jamun Gulab Jamun
Soft Khoya – 2 cup (400 grams)
Paneer – 125 grams
Refined flour – ½ cup (75 grams)
Sugar – 1 kilogram
Semolina – 1 tbsp
Sugar – 1 tsp
Cashews – 6 to 7 (1 tbsp) (Finely chopped)
Almonds – 6 to 7 (1 tbsp) (Finely chopped)
Chironji – 1 tbsp
Green cardamom – 4 (coarsely ground)
Food color – 1 pinch
Baking powder – ¼ tsp
Ghee – for frying the kala jamuns
How to make kala jamun
Take paneer in a plate and crumble it finely. Now add semolina and baking powder to it. Knead and mash the paneer until soft and smooth. Then add Khoya and refined flour to the paneer and mix everything really well until soft and smooth. Now make small dough balls from the mixture.
 Prepare stuffing:
 For this, take the following ingredients in a mixing bowl – chironji, finely chopped cashews, finely chopped almonds, coarsely ground cardamom and 1 tsp sugar to it. Now pinch 2 tsp paneer mixture and add it to the stuffing and mix everything really well. Add some food color to the stuffing and mix well.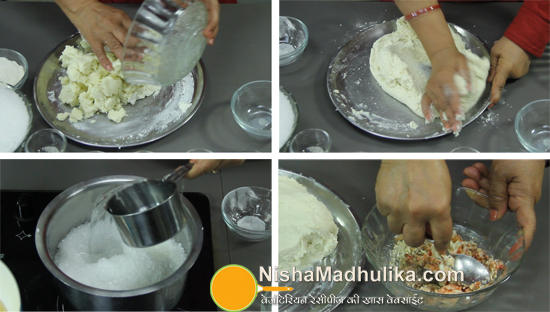 Prepare Sugar Syrup:
In a vessel, take 1 kilogram of sugar and add ½ liter water to it. Place it on flame to simmer until the sugar dissolves completely. After this, take 1 to 2 drops from the syrup on a plate and check with your thumb and forefinger whether it's gooey and sticky in consistency. Sugar syrup is ready, turn off the flame. Take it from flame and place on a net stand.
Stuff and fry the jamuns
Heat enough ghee in a wok. Fry one kala jamun first to check whether they don't splatter while frying.
Pinch small portion from the dough and roll into round shape. Place it in medium hot ghee for frying and pour the ghee over the kala jamun with a ladle. Fry until it gets golden brown in color. This jamun is roasted well; let us prepare the rest as well.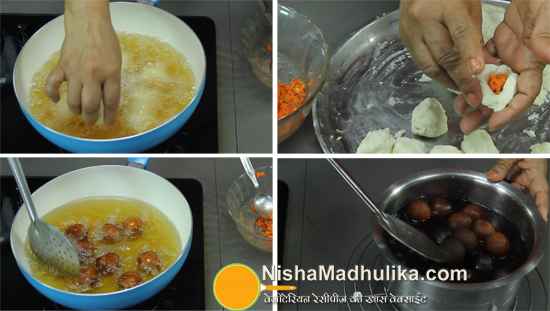 Now pinch small equal size of portions from the dough. Lift one lump at a time, flatten it with your fingers, stuff it with little amount of stuffing and close the stuffing nicely. Now roll in to a round shape using your palms and place them on a plate.
Similarly prepare 10 to 15 dough balls from the mixture first. Drop the prepared dough balls in ghee to deep fry. Keep the flame low and the ghee should be medium hot. Don't touch the kala jamuns with ladle while frying; instead pour hot ghee over them using a ladle. Fry them on low flame until they turn little brown in color. After this fry them on high flame till they turn darker in color. Drain out the fried kala jamuns and soak them in sugar syrup. Similarly prepare dough balls from the entire mawa, fry them and drench in sugar syrup.
Let the fried kala jamuns drench in sugar syrup for 2 to 3 hours. The kala jamuns absorb sugar and get sweeter. You can have them now but the real comes the next day when the jamuns absorb syrup completely.
Suggestions:
Knead and mash the mawa-paneer mixture really well until smooth and soft. Make a dough ball from the mixture first. There should not be any cracks on it. If there are cracks on jamuns then you'll need to knead the dough more.
Take ghee in more quantity for frying the kala jamuns, if the ghee is less then the jamuns are not fried aptly and don't puff up. They get flatten.
The ghee for frying the kala jamuns should be medium hot. If the ghee is too hot then they will turn darker quickly and if the ghee is less hot then they can splatter while frying.
For 35 to 40 kala jamuns
Time – 70 minutes
Kala Jamun recipe – How to make Kala Jamun
Tags
Categories
Kala Jamun recipe – How to make Kala Jamun
Nisha Madhulika
Rating:

5.00

out of

5