Khatta Dhokla Recipe - Gujarati White Dhokla Recipe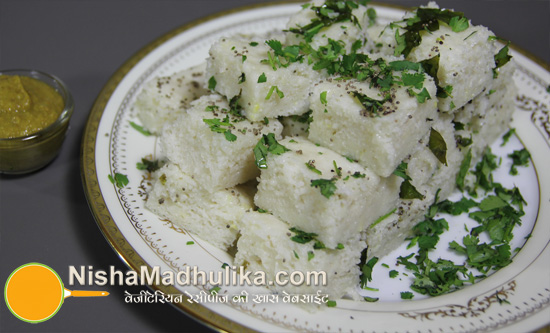 This Gujarati recipe of Sweet-tarty dhokla prepared with urad dal and rice mixture can be prepared for breakfast or supper or whenever you wish to have something light and healthy. Nowadays, we easily get ready made idle batter from market, so making this more simpler.
हिन्दी में पढिये : Khatta Dhokla Recipe - Gujarati White Dhokla Recipe
Ingredients for Khatta Dhokla
Urad dal and rice batter (fermented) (Idli batter) - 2.5 cup
Sour curd - 1/2 cup
Green coriander - 2 to 3 tbsp
Oil - 3 tbsp
Curry leaves - 10 to 12
Green chilies - 1 to 2
Ginger paste - 1 tsp
Salt - 3/4 tsp or as per taste
Red mustard seeds - 1/2 tsp
Eno fruit salt - 3/4 tsp
How to make Khatta Dhokla
Take a plate with 8 to 10 inch diameter and grease it with some oil. Take a vessel where plate with dhokla batter can be placed easily. Take 2 cups of water and place over flame for heating.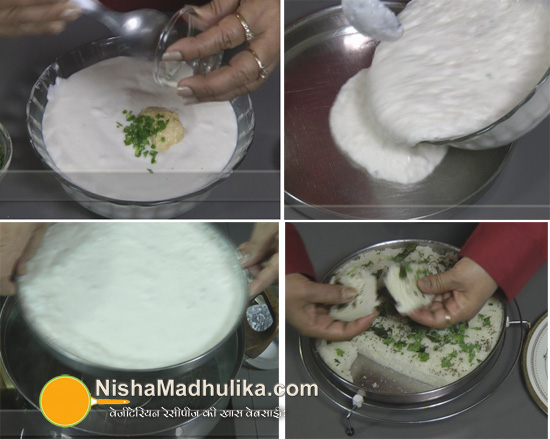 Take out idli batter in a big bowl and add ginger paste, green chilly, salt, 2 tsp oil and curd in the batter. Now add eno fruit salt as well and mix well. Pour this dhokla batter in greased plate and spread evenly.
Water is sufficiently heated, place a net wire inside the vessel and keep the plate over over it. Cover and cook the dhokla for 18 to 20 minutes on medium and high flame. After 20 minutes, check and see whether dhokla is fluffy or not. Now take it off flame and with help of a knife, cut the dhokla in small or big chunks as per your preference. Prepare tadka for the dhokla. For this, take some oil in a small pan and heat sufficiently. When oil is hot, add red mustard seeds and after sauteing for while add curry leaves. Pour this tadka over the dhokla with help of a spoon. Garnish with some green coriander. Serve dhokla with green coriander chutney, coconut chutney or chilly sauce and relish eating.
Suggestion:
If you wish not to add tadka to the dhokla .i.e. don't want to eat too much oil then while making dhokla you can sprinkle some freshly crushed black pepper and red chilly powder over the dhokla and then cut it as it is.
Curd used for adding in the batter is fresh, then add 1 lemon's juice into the batter.
Dhokla prepared with idli batter comes out spongy without adding anything extra. But to make it too spongy you can add eno fruit salt to it.
Other Dhokla Recipes:
Gujarati Khatta Dkhokla Recipe Video in Hindi
Tags
Categories
Khatta Dhokla Recipe - Gujarati White Dhokla Recipe
Nisha Madhulika
Rating:

5.00

out of

5