Masala Baati recipe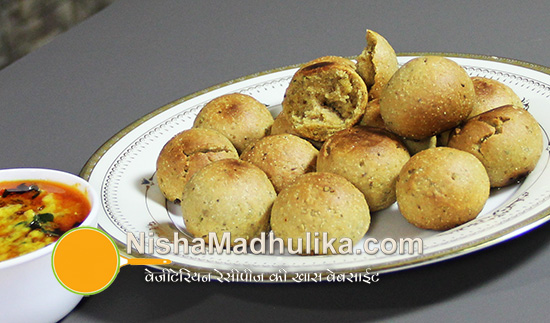 Baati can be prepared in numerous styles. Like bafla batti (where we boil baatis), spices and stuffing filled batti or fried baati and so on. Today we'll make Rajasthani masala baati prepared with coarsely grounded spices mixed in flour. 
हिन्दी में पढिये : Masala Baati recipe
Ingredients for Masala Baati recipe
Wheat flour - 2 cup (300 grams)
Semolina - 1/2 cup (90 grams)
Gram flour - 1/2 cup (50 grams) for kneading
Desi ghee - 1/3 cup (80 grams)(for kneading dough)
Desi ghee - 1/2 cup (100 grams) (for coating battis)
Black pepper - 3/4 tsp
Brown cardamom - 1
Coriander seeds - 1 tsp
Fennel seeds - 1 tsp
Cumin seeds - 1/2 tsp
Carom seeds - 1/2 tsp
Baking soda - less than 1/4 tsp
Asafoetida - 1 pinch
Red chilly powder - 1/4 tsp
Salt - 1 tsp (or as per taste)
How to make Rajasthani Masala Bati ?
Add whole spices - coriander seeds, fennel seeds, cumin seeds, brown cardamom, black pepper and salt in a mixture grinder and grind coarsely. 
Take flour, semolina, gram flour, coarsely ground spices, carom seeds, red chilly powder, asafoetida and baking soda in a bowl and mix all ingredients. Also ghee and mix well. Now add little water at a time and knead soft dough same as used for making paranthas. For kneading this much quantity of dough we have used less than 1 cup of water. Cover and keep aside the dough for 20 minutes to set. 
Dough is now set, grease your hands with some oil and knead the dough until smooth. Dough for making batti is now ready. Make dough balls from the dough, equal to the size of dough ball required for making chapatti. With this much dough 15-16 dough balls can be prepared. 
Take a baking tray and grease it with some ghee. Take one dough ball and roll giving it a round shape. Place the baati on baking tray. Likewise make all the dough balls and place them on baking tray at some distance.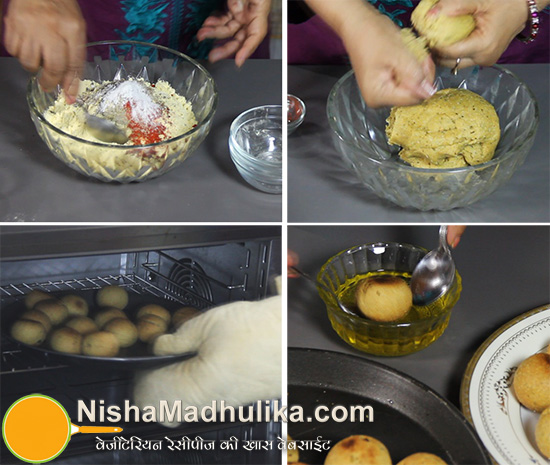 Bake baatis:
Preheat oven at 220 degree centigrade. Place the tray at middle rack in the oven and set the oven on 220 degree centigrade for 10 minutes. After 10 minutes take out the batti from oven and check. Baatis are slightly brown. Bake the baatis in oven for 5 more minutes at 200 degree centigrade and check later. It took 20 minutes to bake the baatis. Baati is now ready. 
Dip the steaming hot baatis in ghee, one by one and place on a plate. Baati is ready to be served. Serve Rajasthani masala baati with panchratna dal or arhar dal or green coriander chutney or pickle and relish eating. 
Suggestion:
Time duration for making baatis may vary in different oven models. So bake the baati for 10 minutes first and check. Bake the baatis until they turn golden brown in color. Keep constant check on time.
For 4 members
Time - 45 minutes
Rajasthani Masala Baati recipe Video in Hindi
Tags
Categories
Masala Baati recipe
Nisha Madhulika
Rating:

5.00

out of

5