Baked Kachori Recipe | Potato Stuffed Masala Bun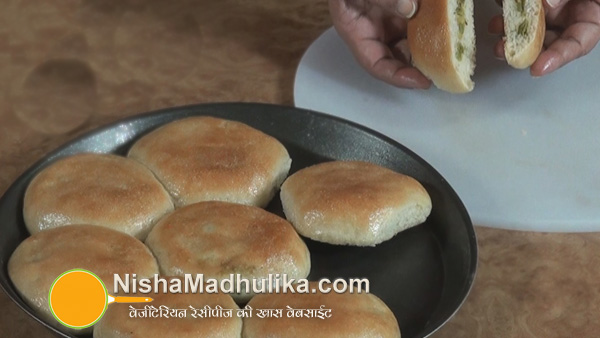 If you like eating kachori's and want to avoid eating oil then baked kachori's is want you will love eating. This recipe can be converted into potato stuffed masala bun by just giving them a round shape.  So let's make baked kachori's or potato masala bun.
हिन्दी में पढिये - Baked Kachori Recipe | Potato Stuffed Masala Bun recipe
Ingredients for Baked Kachori Recipe
Ingredients for Kachori Covering
Maida (all purpose flour) - 2 cup
Oil - 3 tbsp
Salt - 1 tsp
Sugar - 1 tsp
Instant dry yeast - ¾ tsp or
Active dry yeast - 1 tsp
Ingredients for Stuffing
Potato - 2 medium (boiled)
Green peas - ½ cup
Green coriander - 2 tbsp
Cumin seeds - ¼ tsp
Asafoetida - 1 pinch
Green chilly - 1 (finely chopped)
Ginger - ½ inch piece (grated)
Turmeric powder - less then ¼ tsp
Coriander powder - ½ tsp
Fennel powder - ½ tsp
Red chilly powder - less then ¼ tsp
Garam masala - less then ¼ tsp
Mango powder - ¼ tsp
How to make Baked Kachori or Masala Bun
Knead dough for making kachori's. Take out flour in any utensil and make a small well in center of the flour. Add sugar, instant dry yeast (there is no need to active instant dry yeast in lukewarm water), ½ tsp salt and 2 tsp oil in the maida and mix well.
Add little amount of lukewarm water in the dough at a time and prepare a soft dough like that used for making chapatti's. Knead dough for about 4-5 minutes until it becomes soft. (For kneading this much amount of water 1 cup water is used). Grease the dough with little oil, cover it and keep it aside for 20-25 minutes for fermenting. Meanwhile prepare stuffing for the kachori's.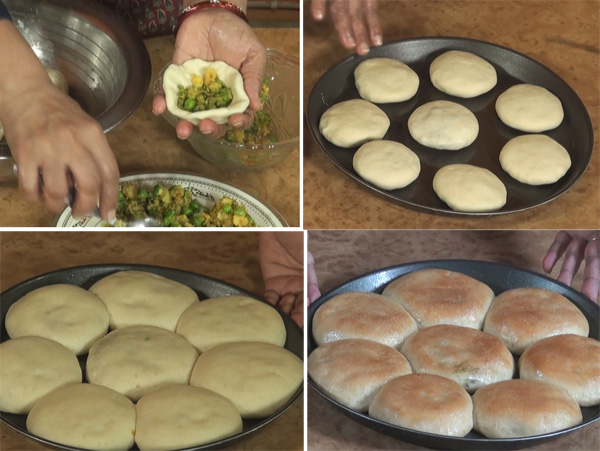 Heat oil in a pan and add asafoetida and cumin seeds. Roast for a while, and then add green chilies, turmeric powder, coriander powder, fennel powder and green peas. Mash the green peas. Now also add mashed potatoes, salt, red chilly powder, garam masala and mango powder. Mix all ingredients well and cook for 2-3 minutes.
Dough has fermented, now stuff the kachori's. Divide the dough and stuffing in 8 equal halves. Take one part in your hand and make a round ball. Flatten the ball with your hand and make a dent in center. Fill the stuffing in the center and seal the stuffing from all sides. Flatten the kachori. Grease the baking tray with oil and place the kachori on the tray. Like wise prepare all kachori's. Cover the kachori's; and keep them aside for 2 hours for fermenting.
Kachori's got fermented well. Now keep them in oven for baking. Set the oven temperature to 200 degree centigrade and cook kachori's for 20 minutes in oven. Check after 15minutes. Bake more if not cooked properly.
Kachori's are now baked properly. Baked kachori is now ready. Serve with hot tea or coffee.
Baked Kachori Recipe | Potato Stuffed Masala Bun video in Hindi
Tags
Categories
Baked Kachori Recipe | Potato Stuffed Masala Bun
Nisha Madhulika
Rating:

5.00

out of

5