Kerala Parotta Recipe - Kerala Paratha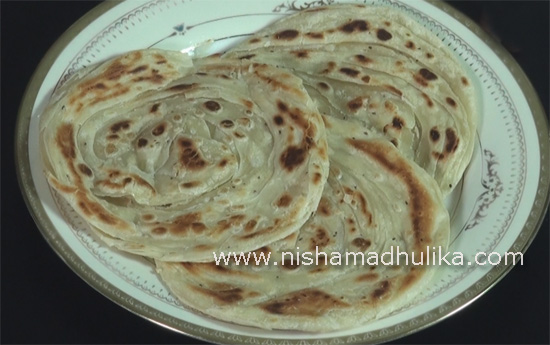 Kerala parotta is similar to north India's Laccha Paratha. The only difference is that Kerala Parottaa is made of Maida(flour) and requires more amount of kneading to prepare a very soft dough.
Traditional Kerala Paratha is knead continuously for an hour and its texture has to be similar to that of a pastry. The outer layer of Kerala Paratha is soft and crunchy while the inner layers are cushy.
Ingredients for Kerala Porotta
Maida(flour) - 1 cup
Salt - add to taste or ¼ tsp
Ajjwain(carom seeds) - less than ¼ tsp
Ghee - 2 to 3 tbsp
How to make Kerala Parotta
Filter Maida with a strainer and remove the filtered amount in a utensil. Put salt, Ajjwain and 2 tsp ghee to Maida and mix them up.
With the help of water knead a soft dough, rigorously knead the dough for 3-4 minutes till it turns smooth.
Cover the dough and keep it aside for 15-20 minutes allowing it to ferment.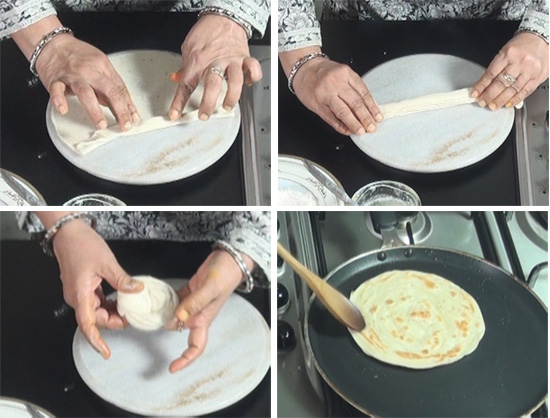 After 20 minutes make 3 pieces of the dough, take one piece and roll it into a ball then press it. Using dry flour thinly flatten the ball with a rolling pin. Pour 1 spoon Ghee on the rolled out Paratha and spread evenly. Fold Parantha i the same manner as shown. Roll the folded Paratha into a ball.
Now roll paratha with a diameter of 7-8 inches. Place Parantha on a heated Tawa(flat pan), apply ghee on both sides and fry till it turns brown. Take out the parantha and place it on a plate covered with a napkin. Prepare the remaining Parottas in the same manner.
While removing Kerala Paranthas from Tawa and placing them on a plate, press lightly with both hands. This makes them appear fluffy.
Serve crispy Kerala Paranths with Chutney, pickle or you favourite curry and enjoy.
Kerala Paratha Recipe video in Hindi
Tags
Categories
Kerala Parotta Recipe - Kerala Paratha
Nisha Madhulika
Rating:

5.00

out of

5