Tofu Stuffed Bread Recipe - Paneer Stuffed Bread Rolls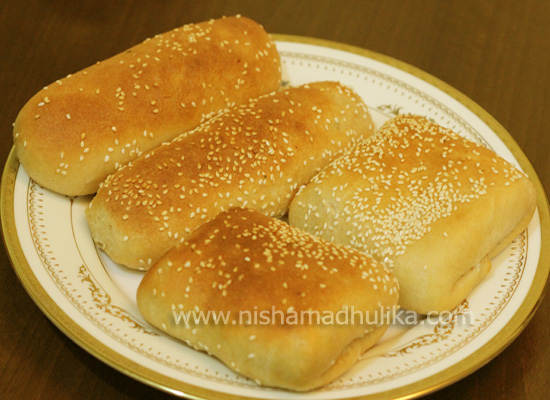 Oven Fresh Stuffed Paneer Bread is mostly liked by all. This is the best snack that you can pack in your kid's school lunch box. And i am sure he'll never bring it back, instead will ask for more.  Lets learn how to prepare Paneer Stuffed Bread.
हिन्दी में पढिये - Tofu Stuffed Paneer Bread recipe in Hindi
Ingredients for Paneer Stuffed Bread or Tofu Stuffed Bread
Wheat Flour - 400 gms.
Dry Yeast - 2 tea spoon.
Salt - according to your taste.
Sugar - 2 tea spoon.
Oil - 1-2 table spoon.
For Stuffing:
Paneer - 250 gms. (2 big square shaped pieces)
Salt - according to the taste (1/2 tea spoon)
Black pepper - less than 1/4 tea spoon.
Green Chilli - 1 small.
Coriander leaves - 2 table spoon (chopped)
Sesame (Til) - 1 table spoon.
Method - How to make Paneer Stuffed Bread at home
To prepare the dough to make bread take 2 1/2 cup luke warm water.
Seive the wheat flour, divide it into 2 portions on a plate with hands and put salt, sugar, oil, and home-made yeast (how to make yeast at home)  between the two parts. Mix all the ingredients well and knead the flour with 21/2 cup luke warm water. The dough shouls be as soft as a a dough prepared to make a soft chapati. Flip and turn the dough for 6-7 minutes to make it smooth and light.
If you are using dry yeast, then soak it for 10 minutes in luke warm water so that it dissolves in it well and you get a liquid form of yeast to add into the flour. Dry yeast dissolves into the water forming light foam. Substitute the home-made yeast with dry yeast and continue with the steps as told above.



Put the dough in a greased tray and cover it with a plastic shet or cleansed film. Keep the tray at a warm place for 3-4 hours. The dough will rise and double up. In winters cover the tray from all the sides with a clean towel. The dough to make break is ready.
Punch the dough to make it equal and divide it into 8-10 equal parts to make balls. Dust these balls with dry maida.
We have prepared the paneer stuff in two ways. We have cut the paneer into two parts. We have cut the first part into 3 thin slices, and have grated the other part. Add salt, black pepper, green chilli into the grated paneer to make a Masala Paneer Stuff.
Take one dough ball and dust it with dry maida. Spread some sesame on the rolling board and flatten the ball to make a flat disc like we make for paranthas. Put the paneer slices on the disc and sprinkle some home-made chat masala or salt and pepper on it. Close the disc from the corners to make a square.


Make three square bread in the same way stuffed with square paneer slices.
Take a tray and grease it with little oil. Place these bread pieces in the tray.
How to make Paneer Stuffed Rolls
Take the fourth dough ball, dust it with dry maida, spread some sesame on the rolling board and roll it to make a flat disc. Divide the paneer masala stuff into 5 equal parts. Put one part of the paneer stuff on the flattened disc and close the corners forming a cylindrical shape. Make 3 or 4 cylindrical shaped masala paneer stuffed rolls and place it inside the greased tray.



Cover the tray and leave it for an hour. After one hour preheat the oven at 200 centigrade and then put the tray in the oven set at 190 centigrade for 10 minutes. If the bread had turned brown in colour then it is ready, else bake it for another 2-3 minutes at the same temperature.


Tofu Stuffed Paneer Roll is ready. Let them cool down. You can serve it as an evening snack with tomato ketchup or can pack it in your kids tiffin box. You can store the left over  for 3 days in the refrigerator. Whenever you like to eat it, just take it out from the fridge microwave it for a couple of minutes and serve with hot tea or coffee.
Suggestion:
You can stuff the bread with boiled potatoes, grated vegetables. You can make Green Vegetable Stuffed Bread. You can also make Spinach Filled Bread Rolls. Just wash and clean the spinach leaves and sprinkle some chat masala or salt and black pepper and stuff it into the bread.
You can also make Jam Filled Bread by  stuffing it with Apple Jam  (Apple Jam) or Pineapple Jam (Pineapple Jam) .
Tags
Categories
Tofu Stuffed Bread Recipe - Paneer Stuffed Bread Rolls
Nisha Madhulika
Rating:

5.00

out of

5