Potato Chips Recipe - Potato Crisp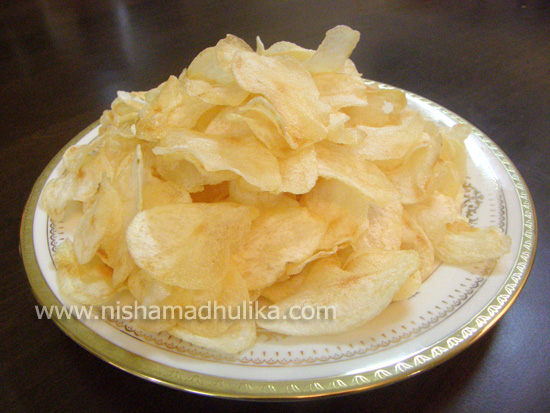 Everyone is fond of Crispy Potato Chips and no one can eat just one. Once it touches your taste bud, you get keen to have another.
Potato Chips can be made in 2 ways:
Dried Potato Chips - Dry boiled Potato chips in the Sun and fry them whenever you want to eat.
Spicy Potato Chips - These are made without boiling the Potatoes. Potatoes are cut into chips and fried.
Today we will make Spicy Potato Chips without boiling the Potatoes.
इस रेसीपी को हिन्दी में पढिये -  Aloo chips recipe - Potato Chips recipe
Ingredients for Potato Chips
Potatoes - 4-5 ( big sized)
Oil to fry.
Alum (phitkari) - equal to 1 gram.
Salt - According to taste (1/3 tea spoon)
Black pepper - 1/6 tea spoon (optional)
Method - How to make Potato Chips
Take big , round potatoes to make Potato Chips. Potaotes should be big, round, and equal in size. Peel the potatoes and wash them under the running water.

Cut the potatoes into thin slices with the help of chips cutter or any food processor. You can also use sharp knife to cut thin slices. The slices should be thin and equal in size.
Boil 1 ltr. water in a deep pan. The pan should be enough deep so that all the chips can be soaked at one time in it. Add alum into the pan. Alum brings good colour to the potatoes. In case alum (phitkari) is not available, then you can use 1 table spoon vinegar also. Dip all the chips into the pan and leave it for half an hour.
Take them out of the water and wash them with fresh water. Strain the water from the chips and wipe the water from them with a clean cloth.

Heat oil in a pan and put the chips to it. Put as many chips that can be dipped totally in the oil. Do not fry at high heat else the chips will turn brown too soon. Fry the chips at medium or low flame. In might take 5-7 minutes to fry the chips. Take them out of the pan once the chips get crispy. Fry the rest of the chips in the same manner.
Sprinkle salt and black pepper powder on the chips. You can eat this Spicy Crispy Potato Chips right now or store them in an air-tight container and serve it later with tea or coffee in the evening snack.
Suggestions:
Sprinkle lahori salt and black pepper if you are making the chips for fasting days.
Leave the chips in an open air till they cool down.
Tags
Categories
Potato Chips Recipe - Potato Crisp
Nisha Madhulika
Rating:

5.00

out of

5