Pineapple Jam Recipe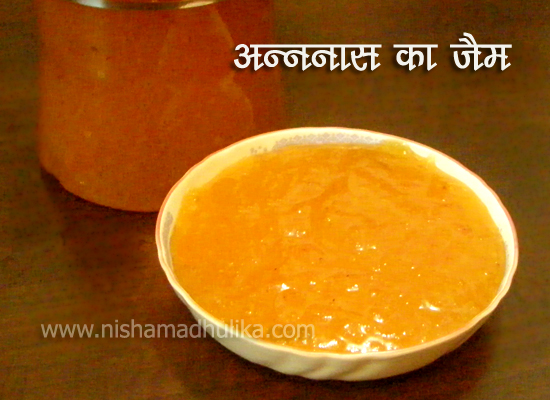 It is difficult to peel Pineapple at home, but nowadays the vendors peel them for you. If you can get peeled Pineapple, then it will be very easy to make Pineapple Jam.
Ingredients for Pineapple Jam recipe
Pineapple - 1 kg.
Sugar - 1 kg. (4 cup)
Lemon - 2
Cinnamon - 1 inch
Nutmeg (jayphal) - 1/4tea spoon.
Method - How to make Pineapple Jam
Cut the pineapple into small pieces and put them into the mixer to make paste.
Take out the pineapple paste in a glass bowl and add sugar to it. Cover the bowl and leave it for 1 hour. The sugar will dissolve into the pineapple paste upto a certain level.



Transfer the pineapple mixture into the steel pan and put it over the stove. Keep on stirring the mixture at short intervals so that the mixture do not sticks at the bottom of the pan.
Once the mixture starts to boil and the sugar gets completely dissolves into it, cook it until the mixture reaches a level of thick consistency. Test the mixture by taking a drop of the mixture between your thumb and finger and see if it feels sticky and forms a string on separating the two. The jam is ready. Turn off the flame. Let it cool down so it sets. If you will drop it with the spoon then it falls in clots. 



Grind the cinnamon and nutmeg into powdered form and mix them into the jam. Take out the juice from the lemon and mix it into the jam.
To store the jam sterilize a glass bottle and dry it. Fill this jam bottle with the jam and store it. Use small glass containers rather than using big sized containers.
Pineapple Jam is ready. Serve it with bread, parantha and make bread sandwich with it.
Tags
Categories
Pineapple Jam Recipe
Nisha Madhulika
Rating:

5.00

out of

5