Cauliflower, Carrot and Turnip Sweet Pickle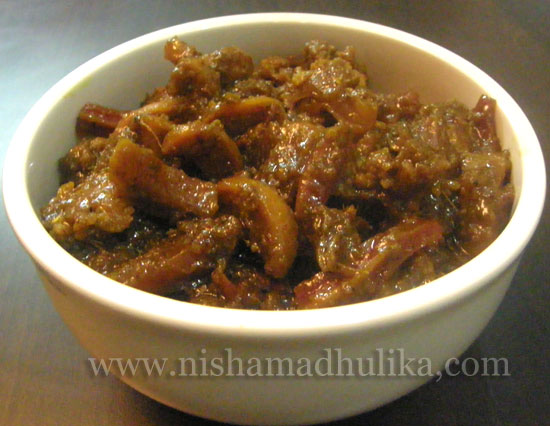 These days carrots, cauliflower and turnip are available in plenty in the market. These 3 mixed together make a tasty sweet pickle which you and the kids will surely love.
हिन्दी में पढिये : Cauliflower, Carrot and Turnip Sweet Pickle
- Ingredients for Cauliflower, carrot and turnip pickle
Cauliflower, carrot, turnip - 1 kg
Ginger - 100 grams (make a paste )
Jeera - 2 tsp
Methi(fenugreek) - 1 tsp
Saunff(fennel)- 1 tbsp
Rie- 1 tbsp
Black pepper - 1 tsp
Clove - 6
Cinnamon - 1 piece
Heeng(asafoetida) - 3 to 4 pinch
Turmeric powder - 1 tsp
Elaichi(cardamom) - 6 to 7(peel then crush)
Dates - 10
Red chilly powder - 1/4 tsp
Oil - 200 grams
Plain salt - 3 tsp
Black salt - 1 tsp
Vinegar - 50 grams ( 1/2 cup )
Gur(jaggery) - 300 grams
- How to make Carrots, Turnip and Cauliflower pickle
Put 1/2 tsp salt in hot water, soak cauliflower pieces in this water for 10 minutes then wash. Peel carrot and turnip, wash then cut into long strips.
Peel, wash and cut ginger into pieces then put in a mixer to make paste.
Grind Jeera, Methi, Saunff, Rie, black pepper, clove and cinnamon to a fine powder. Peel Elaichi and keep aside.
Remove the seeds from the dated then cut into long pieces.
Heat water in a utensil enough to submerge all the vegetables. After water comes to boil, put the vegetables in boiling water and put the lid on. Turn off the gas after 2-3 minutes. The vegetables become a bit soft.



Drain out water from the vegetables with a strainer, keep them on a dry cotton cloth and keep in the sun for 3-4 hours to dry. If there is no sun then vegetables can be spread on the cloth and kept in a shade.
Pour oil in a frying pan(kadhai) and heat(keep a low flame). Put Heeng, turmeric powder along with the grounded spices then gently stir fry using a spoon. Now put the ginger paste and fry for another 2-3 minutes. Add the pieces of cauliflower, carrot and turnip followed by salt and red chilly powder. Mix all the ingredients properly. Turn off the gas.
Heat vinegar and Gur in another utensil, cook till Gur melts. Filter this melted Gur and pour in the vegetables mixed with spices. Also add crushed Elaichi and mix.
Fill cauliflower, carrot and turnip pickle in a glass or plastic container. Tasty Cauliflower, Carrot and Turnip Sweet Pickle will be ready in the next 4-5 days. You can store and eat this pickle for the next 6 months.
Note:
If water is visible in the pickle then cook it on the gas to make pickle thick.
Cauliflower, Carrot and Turnip Sweet Pickle video in Hindi

Tags
Categories
Cauliflower, Carrot and Turnip Sweet Pickle
Nisha Madhulika
Rating:

5.00

out of

5