Puff Pastry Recipe – Homemade Puff Pastry Recipe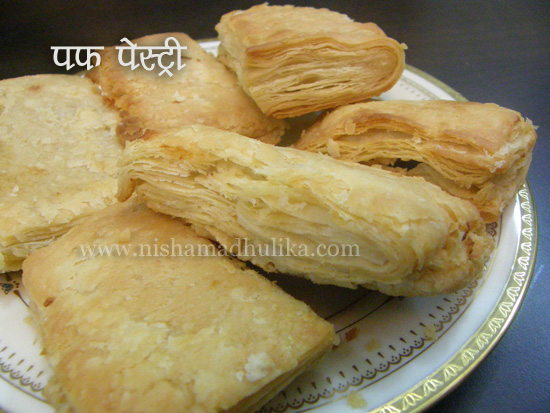 Homemade Puff Pastry is a relish. It makes a great combination with your evening tea.
If Puff Pastry is available nearby in the market then you can purchase it then and there. Else you it can be easily prepared in the comfort of your home. While making Puff Pastry sheets at home try and make many so that you can use it when required.. The procedure to make Puff pastry sheets at home is as follows:
How to make Puff Pastry Sheets at home
Ingredients for Puff Pastry
Puff Pastry sheets
Pieces of Aloo Matar, Paneer or dry fruits to fill the pastry.
How to make Puff Pastry :
You can make Puff Pastry with any stuffing you want.
For Aloo Matar Pastry - Fry boiled potatoes and peas(matar) with salt, green chilli, Amchur(mango powder), Garam masala in some oil.
For Paneer Pastry - Wrap large pieces of Paneer in Chat masala or cut Paneer into small pieces and mix with Chaat masala. Fill these pieces in the Pastry.
For Dry fruits Pastry - Cut raisins and cashew nuts and fill in the Pastry.
In case you have Puff Pastry sheets stored in the fridge, take them out 8-10 hours before you prepare the pastry. Or defrost them in the microwave as soon as you take them out of the fridge then use the sheets.
Take Puff Pastry sheets and fill them with with your favorite mix of Aloo Matar , Paneer or dry fruits. Apply water to its edges and stick them together.  Fill the pastries and place all of them on a baking tray.

Preheat oven at 230 degrees. Once the oven is properly heated place the baking tray in it and set the oven for 20 minutes.
After 20 minutes turn the Pastries over and set the oven for another 10 minutes. Now heat the oven at a temperature of 160 degrees and set it for 10-12 minutes to make crispy Pastries. Golden, crispy Pastries are ready.
Pastries filled with Aloo or Paneer have to be finished quickly. Pastries filled with dry fruits can be stored for 4-5 days.
Tags
Categories
Puff Pastry Recipe – Homemade Puff Pastry Recipe
Nisha Madhulika
Rating:

5.00

out of

5