Stuffed Idli Recipe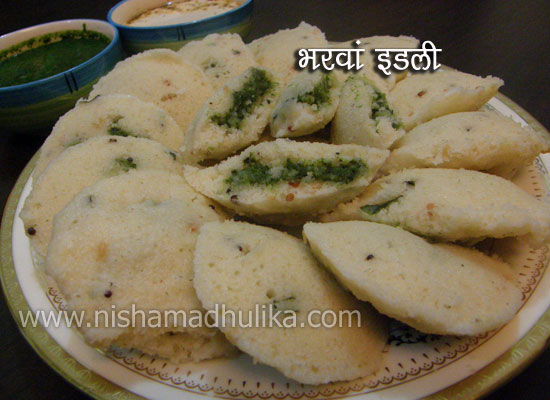 During the winter season one always desires something hot for breakfast. It can not get better than Steaming Stuffed Idlis.
If planned earlier then Dal Idli can be prepared, but Rawa Idli can me made instantly whenever you want. Filling Idli with your favorite mix makes it more palatable. So let us prepare Stuffed Idli Rawa for today's breakfast.
- Ingredients for Stuffed Idli
Rawa/Suji(semolina) - 300 grams (1 1/2 cup)
Curd - 300 grams (1 1/2 cup)
Water - less than 50 grams (1/4 cup)
Salt - add to taste /1 tsp
Eno salt - 1 tsp
Oil - 2 tbsp
Rie - 1 tsp
Curry leaves- 7 to 8
Urad dal - 1 tsp
Green chilli- 1 (finely chopped
- Stuffing for Stuffed Idli
Boiled potatoes - 3 (medium sized)
Palak(spinach) -  1 cup(finely chopped)
Green chilli - 1 (finely chopped)
Ginger paste - 1 tsp
Salt - 1/2 tsp
Oil - 2 tsp
- How to make Stuffed Idli
First, beat curd. Filter Suji in a utensil, mix it with curd and mix properly. Add water and salt to it and blend rigorously (there should not be any bubbles present).
In a small pan(kadhai) pour 2 tsp oil and heat, now put Rie. Once the Rie is fried add curry leaves, Urad dal and fry till dal turns light brown. Add green chilli and fry some more. Cover the mixture and keep aside for 15 minutes allowing the Suji grains to get puffed.
How to make stuffing(pithhi)
Peel the potatoes then break into small pieces, pour oil in the pan, put green chilli and ginger paste, followed by Palak. Cook till Palak turns soft, put in potatoes and salt, stuffing required to prepare Idli is ready.
Put 2 small glasses of water in a cooker and place it on the gas to heat.


After adding eno salt to the mixture, use a spoon to blend well, as the mixture starts to ferment stop stirring(do not beat excessively after you add eno salt).
Apply some oil to the Idli stand making it smooth. Pour mixture into each of the Idli moulds to half level using a spoon. Take some stuffing and place it on the Idli mixture in all the moulds with a spoon and cover it.  Fill all the levels of the Idli stand in this manner.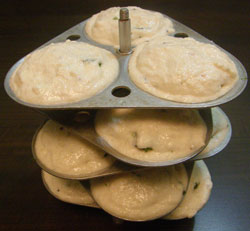 At one time according to the Idli stand 12-18 Idlis can be prepared. Fix the plates on the Idli stand and after water in the cooker emits steam, place the stand in the cooker. Place the lid but remove its whistle.
Allow Idli to cook for 10 minutes on a high flame, open the lid(poke with a knife to check if Idli is cooked, if the mixture does not stick to the knife then Idli is cooked). Take out Idli stand from the cooker, remove the plates, after cooling use a knife to take Idlis out then place them on a plate.
Stuffed Rawa Idli is ready. Serve piping hot Stuffed Rawa Idli with Sambhar, coconut chutney, Chana dal chutney or peanut chutney and indulge yourself..
Suggestions:
You can put green peas, grated carrot, paneer etc as you prefer in the stuffing required for Stuffed Rawa Idli . Stuffed Idli can also be prepared from Dal chawal.
Stuffed Idli Recipe in Hindi
Tags
Categories
Stuffed Idli Recipe
Nisha Madhulika
Rating:

5.00

out of

5