Mixed Veg Bhurji Recipe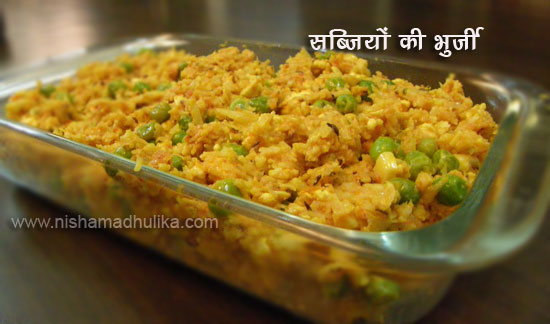 As the cold sets in, fresh vegetables are available in the market. Mixed Veg Bhurji made with fresh peas, cabbage, cauliflower and other vegetable. will surely be loved by you and your family.
हिन्दी में पढिये - Mixed Veg Bhurji Recipe
- Ingredients for Mixed Veg Bhurji
Cauliflower - 1 to 400 grams (2 cups, grated)
Cabbage - 1 small or 200 grams (1 cup, grated)
Green peas - 1 cup(peeled)
Capsicum - 2
Paneer(cheese) - 200 grams ( 1 cup, grated)
Tomatoes - 2 to 3 (medium sized)
Green chillies - 1 to 2
Ginger - 1 inch long piece
Curd - 1/2 cup (100 grams)
Oil - 4 tbsp
Jeera(cumin seeds) - 1/2 tsp
Whole spices - (10 black pepper, 4 cloves and 2 Elaichi(cardamom), 1 small piece of cinnamon)
Turmeric powder - 1/2 tsp
Coriander(dhaniya) powder - 1 tsp
Red chilli powder - less than 1/4 tsp(if you want)
Salt - 1 1/2 tsp (add to taste)
Cashew nut - 12 to 15 (1cut 1 nut into 5-6 pieces)
Raisins - 20 to 25
Green coriander - 1 tbsp (finely chopped)
- How to make Mixed Veg Bhurji
Clean the cauliflower and cut into big pieces. Put these pieces in hot salt water and soak for 5 minutes. Take out the cauliflower pieces from the water, wash them twice with clean water and grate or finely chop in a food processor.
Wash the cabbage then grate it or finely chop in a food processor or use a knife.
Wash the peas. Wash capsicums and finely chop them.
Make a fine paste of tomatoes, green chilles and ginger. Put this tomato paste in a mixer with curd to mix the two properly. Crush the whole spices to make a coarse powder.
Pour 2 tbsp oil in a frying pan(kadhai) and heat, put the peeled peas in hot oil then take them out after they get fried and keep them on a plate. In the remaining hot oil put the grated cabbage and capsicum then fry for 2-3 minutes. Take these out and keep on a plate.
Pour the remaining 2 tbsp oil in the pan, put Jeera in hot oil and roast till it turns brown. Also put in the powdered spices, gently fry then add turmeric powder, coriander powder and the paste of spices. Fry these ingredients till oil starts to float over the spices.
Add grated cauliflower to the fried spices, mix and put the lid on. Cook these for 2 minutes. Open the lid and put peas, cabbage, capsicum and grated Paneer then mix well. Now put salt, cashew nuts, raisins and half of the coriander, mix all these contents properly. Stir fry for 5 minutes till all of the dries up from the vegetables. Hot Mixed Veg Bhurji is ready.
वेज भुरजी (Mixed Veg Bhurji) प्याले में निकालिये और चपाती, परांठा या चावल किसी के साथ खाइये.
Another method
Put the vegetables(cauliflower, peas, capsicum, cabbage) cut into small pieces in the microwave(in a covered bowl) and cook for 3-4 minutes. Mix these cooked vegetables along with salt, red chilli powder and red chilly powder to the fried spices then stir fry for 3-4 minutes. This makes very tasty Mixed Veg Bhurji.
To make much better Bhurji, choose your favourite vegetables and remove those which you don't like from this list.

Tags
Categories
Mixed Veg Bhurji Recipe
Nisha Madhulika
Rating:

5.00

out of

5