Lauki Burfi/Bottle Gourd Burfi Recipe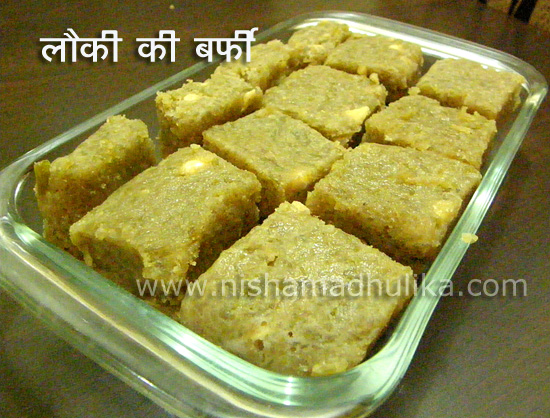 Ghiya Ki Burfee or Lauki ki Lauj can be prepared on festivals or eaten as a fruit diet on fasts. It is very easy to make, this fibrous and nutritious Lauki ki Burfi can be made for Diwali, your family will surely love it.
Ghiya Ki burfee can me prepared in numerous ways. Lauki is cooked in milk till it turns very thick. But this process consumes much time. In another way, after cooking Lauki we can  add Mawa to it and make Lauki ki Barfi.  Lauki ki Burfi made in any way has its own distinct taste. Here we will make Burfi in the easiest and less time consuming method.
If we use ripe Lauki to prepare its Burfi then it will taste more delicious. It is not suitable to use unripe Lauki to make Lauki ki Barfi.
हिन्दी में पढिये : Lauki Burfi/Bottle Gourd Burfi Recipe
- Ingredients for Ghiya Ki burfi
Lauki(bottle gourd) - 1 kg
Ghee - 4 tsp
Sugar - 250 grams
Mawa(dried milk) - 250 grams (break into small pieces)
Cashew nuts - 15 (cut 1 nut into 7-8 pieces)
Elaichi(cardamom) - 6 to 7 (peel and crush into fine powder)
Pistachios - 1 tsp (finely chopped)
- How To Make Lauki Burfi
Peel Lauki, cut into long pieces and remove the inner pulp with seeds. Wash the pieces and grate them. Put the Lauki pieces in a frying pan(kadhai) without any oil, put 2 tsp Ghee, cover and aloow to cook on a low flame. After some time stir with a spoon, cover the pan again. Cook Lauki till it turns soft.



Put sugar in soft Lauki and cook, water releases from Lauki after it is mixed with sugar. Stir Lauki at regular intervals to prevent it from sticking at the pan's base, in this way cook Lauki till all of the water dries up.
Add Ghee to this cooked Lauki then fry Lauki properly. Put Mawa and dry fruits to Lauki-sugar mixture then cook till it reaches the point where it solidifies. Stick Chashni between your fingers to see if it sticks to your fingers. Turn off the gas, crush Elaichi and add to the mixture.



Grease a palate with little Ghee and put this mixture in the plate uniformly. Stick chopped pistachios on the Burfi. Burfi will be hard in an hour. Cut Lauki ki Burfi in your desired shapes, serve and eat.
Fill the remaining Lauki Ki Burfi in an air tight container, keep it in the fridge and enjoy it for 7 days.
 Lauki Burfi Recipe – Bottle Gourd Burfi Recipe
Tags
Categories
Lauki Burfi/Bottle Gourd Burfi Recipe
Nisha Madhulika
Rating:

5.00

out of

5