Sweet Corn Barfi/Sweet Corn Halwa Recipe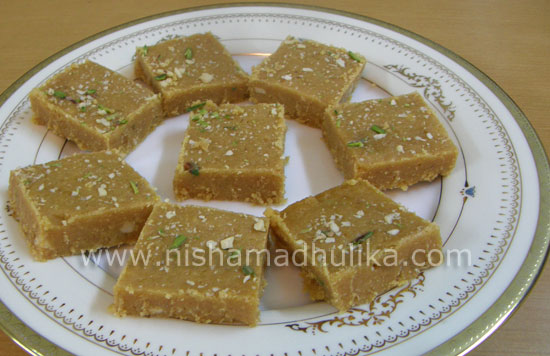 Even before the festivals begin media starts telling us about the artificial Mawa available in the market. Looking at such news we either have to buy chocolates, snacks of the multinational companies or prepare those dishes at home which require very less Mawa.
Both Sweet Corn Burfee and Sweet Corn Halwa need less amount of Mawa to be prepared.So let us make Sweet Corn Burfee and Sweet Corn Halwa. These days sweet corn is easily available, you can choose between frozen or fresh.
हिन्दी में पढिये : Sweet Corn Barfi/Sweet Corn Halwa Recipe
- Ingredients for Sweet Corn Burfi
Sweet corn - 500 grams (2 1/2 cup)
Ghee - 100 grams (1/2 cup)
Mawa(dried milk) - 150 grams (3/4 cup)grated
Sugar - 300 grams ( 1 1/2 cup)
Cashew nuts - 15 to 20 (cut 1nut into 7-8 pieces)
Elaichi - 5 to 6 (peel then crush)
Pistachios - 7 to 8 (finely chopped)
- How to make Sweet Corn Burfi
Clean and wash the sweet corn properly with water. Put it in the mixer and make a fine paste.
Pour Ghee in a heavy based frying pan(kadhai) and heat, put sweet corn paste in hot Ghee then stir fry on a medium flame. When the paste starts to change color, emits a good aroma or appears to separate from the base then the sweet corn paste is sufficiently fried.


Put Mawa in this sweet corn paste and stir fry for another 4-5 minutes.
Mix sugar and 100 grams of water(pour 1/3 water according to the amount of sugar) in a utensil and place it on the gas to prepare Chashni. Cook for 5-6 minutes after Chashni comes to boil.
Put the fried sweet corn paste and Mawa in this Chashni and mix, put some cashew nut pieces while you save some and mix properly. Cook as you stir continuously, when froth starts to appear around the edges and the mixture starts to get puffy turn off the gas. Mix Elaichi powder in this mixture.
Grease a plate/tray with Ghee. Pour the mixture in the plate and spread it out evenly with the spoon greased with Ghee. Sprinkle finely chopped pistachios and cashew nuts on it and press with a spoon. Barfi will be condensed and ready in 1- 1 1/2 hours. With the help of a knife cut Sweet Corn Barfi in your desired shapes. Here, our Sweet Corn Barfi is prepared, try and see how delicious it really is. Keep the leftover Barfis in  an air-tight container. Take out Barfi whenever you want and eat for 1 week.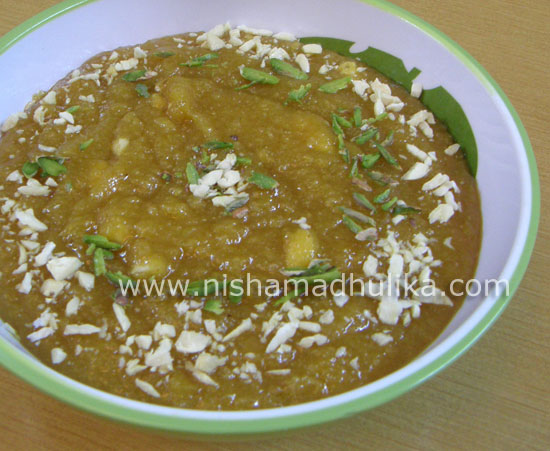 - How to make Sweet Corn Halwa
If you feel like having Sweet Corn Halwa then it is more easy to prepare. Pour Chashni in the fried sweet corn paste and Mawa mixture, stir fry for 2 minutes, Sweet Corn Halwa is ready. Take out Halwa in a bowl, garnish with chopped cashew nuts and pistachios. Serve hot Sweet Corn Halwa and savor the taste.
Sweet Corn Burfi Recipe – Sweet Corn Halwa Recipe video

Tags
Categories
Sweet Corn Barfi/Sweet Corn Halwa Recipe
Nisha Madhulika
Rating:

5.00

out of

5