Mango Mustard Kasundi/Mango Mustard Sauce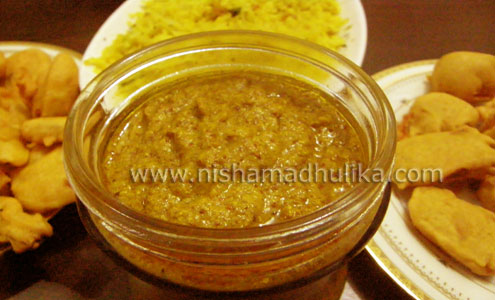 Mango Kasundi Sauce is a very tasty, tangy and sour sauce. It is eaten along with pakoras, pizza, sandwich or any other snacks. Kasundi  can be easily made at home, so let us prepare Mango Kasundi Sauce.
हिन्दी में पढिये : Mango Mustard Kasundi/Mango Mustard Sauce
- Ingredients for Mango Kasundi
Rie (black mustard) - 2 tbsp
Yellow mustard - 2 tbsp
Mango(unripe) - 1
Ginger - 50 grams (2 inch long piece)
Green chillies - 4 to 5
Red chilly powder - 1/2 tsp
Jeera(cumin seeds) - 1 tsp
Coriander(dhaniya) powder - 2 tsp
Sugar - 1 tsp
Mustard oil -  100 grams (1/2 cup)
Heeng(asafoetida) - less than 1/4 tsp
Turmeric powder - 1 tsp
Vinegar - 50 grams (4 tbsp)
Salt - 2 tsp
- How to make Mango Kasundi
Clean Rie and yellow mustard properly.
Wash, peel the mango remove its pulp and cut it. Break the stems of the chillies and wash them. Peel, wash and cut ginger into pieces.
Mix Rie, yellow mustard, mango pulp, green chillies, ginger pieces, Jeera, coriander powder Heeng, turmeric powder and sugar then make a fine paste of all these ingredients.Add 1-2 tbsp water while grinding the spices if required.
Pour oil in a frying pan and heat, keep a low flame, put the masala paste in hot oil and fry for 3-4 minutes. A good aroma starts coming from the spices. Turn off the gas.



Add vinegar and salt to the mixture then fill it in a glass container. If there is sun then keep the container out in the sun. After 3-4 days you will see that the oil is floating on the surface of Kasundi. Delicious Kasundi is ready to eat.
Before you fill Kasundi in the bottle, wash the bottle with boiling water. Dry it properly so that Kasundi does not spoil.
Keep Mango Kasundi Sauce in the fridge and it will stay fresh for 6 months.
Make hot Palak or potato pakoras and serve Kasundi Mustard Sauce with it.
Mango Mustard Kasundi Recipe video in hindi

Tags
Categories
Mango Mustard Kasundi/Mango Mustard Sauce
Nisha Madhulika
Rating:

5.00

out of

5