Gulgule Pua Recipe Sweet Pua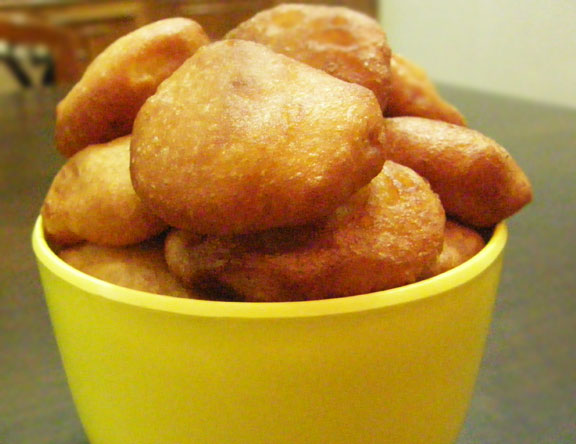 "Gur khaye aur  Gulgule se parhez?", you must have heard this proverb in Hindi but have you actually eaten Gulgule?
Gulgule Pua or Sweet Pua Recipe is a very easy one. In western Uttar Pradesh this is the first dish that a new bride cooks in the house.  These Sweet Puas are also prepared during Pujas or religious rites.  While Mal Pua is a bit flat, Gulgule Pua is in the shape of a Pakoda. If you have a sweet tooth then you will surely like these sweet Gulglue Puas.
हिन्दी में पढिये : Gulgule Pua Recipe Sweet Pua
-  Ingredients for Gulgule
Sweet Pua
Wheat flour - 200 grams( 1  cup)
Sugar/Gur - 80 grams ( less than 1/2 cup)
Til(sesame)/Khas Khas - 1 tbsp
Milk/Water -1 cup
Oil or Ghee to fry.
- How to make Sweet Gulgule Pua - Sweet Pua
Filter flour in a utensil using a strainer.
Put sugar in milk/water and dissolve it, dissolve flour in this sweet milk/water without any solids form present. The mixture for Pua has to be thick like the one used for Pakoda. Cover the mix for 10 minutes allowing the flour to ferment. Now beat this mix properly and if you are going to add Til/Khas Khas in it then put them in followed by a thorough beating.
Pour oil in a pan(kadhai) and heat. When oil is sufficiently heated then take little amounts of mixture at a time and put it in hot oil.  In this manner take mixture in your hands again and put 5-6 or as many in proportion to the oil, in the pan. Fry Puas on a medium flame till they turn red then take out. Fry all Puas in the same process.



Serve steaming hot or cold Gulgule Pua (Sweet Pua) with tea, if your are a bit hungry then serve with pickle or Chutney.
Suggestions:
For a change you can mash 1-2 ripe, sweet bananas and put them in the mixture. This will  give a unique flavor to your Pua.
Gulgule Pua Recipe Sweet Pua video in Hindi

Tags
Categories
Gulgule Pua Recipe Sweet Pua
Nisha Madhulika
Rating:

5.00

out of

5