Dalmoth Namakeen/Chana Dal Namkeen Recipe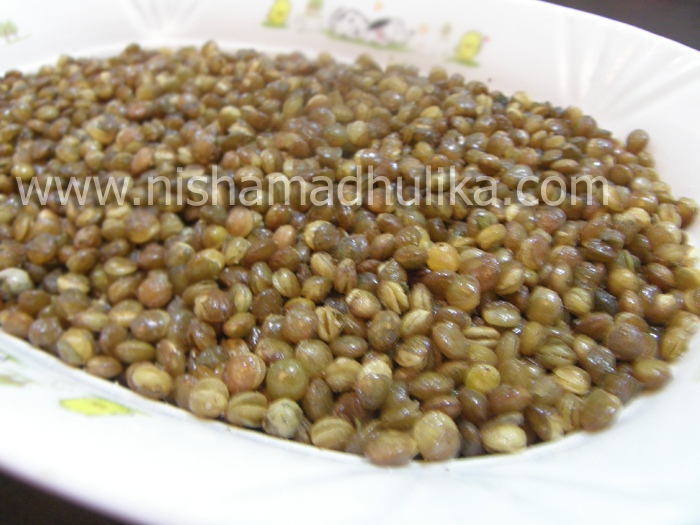 You must surely like fried Namkeen made from Moth beans or Chana(yellow gram)/Moong(mung bean) dal. These can be made at home without much difficulty.
Both Chana dal or Moong dal Namkeen is made in a similar manner.Fry both dals, but Dalmot is not made from Moth dal instead it is made from whole Masoor dal(not peeled). Agre ki Dalmot is made from whole Moth Namkeen with thin strips of flour Sev. Personally i like Moth dal more without the Sev.
हिन्दी में पढिये : Dalmoth Namakeen/Chana Dal Namkeen Recipe
- Ingredients for Chana Dal or Moong Dal Namkeen
Whole Masoor dal - 2 cup (400 grams)
Oil - to fry
Spices
Salt - 1/2 tsp (add to taste)
Crushed black pepper - 1/4 tsp
Crushed red chilly - less than 1/4 tsp
Crushed black salt - 1/2 tsp
Amchur(mango) powder - 1/4 tsp
- How to make Chana Dal or Moong Dal Namkeen
Wash whole Masoor dal and soak in water for 8 hours.
Remove all water from the whole Masoor dal, keep dal on a dry thick cotton cloth or towel for 10 minutes, spread out evenly so that all the water is removed.



Pour oil in a frying pan(kadhai) and heat for frying, heat oil on a high flame. After the oil is well heated and smoke comes from it put dal in hot oil. Fry till dal becomes crispy then ptake out. Fry the remaining dal in the same manner.
The dal to be fried is wet so when it is put in water the temperature of water decreases instantly, so the flame has to be very high. If oil is not very hot then dal becomes hard instead of  Namkeen and crispy.
Fry dal till it turns crispy(press dal with your fingers to check if it's hard). Take out the dal and keep in a strainer in a utensil or keep it on a paper napkin to remove excess oil.
Add the fine powder of spices to the dal. The spice have to finely crushed. Once dal cools off fill it in an air-tight container. Whenever you feel like take out Chatpati Chana dal and eat. This dal can be eaten for months...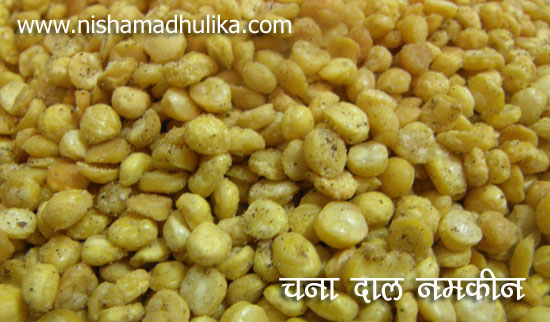 Dalmoth Namakeen/Chana Dal Namkeen Recipe video

Tags
Categories
Dalmoth Namakeen/Chana Dal Namkeen Recipe
Nisha Madhulika
Rating:

5.00

out of

5