Green Chilli Buttermilk Pickle Recipe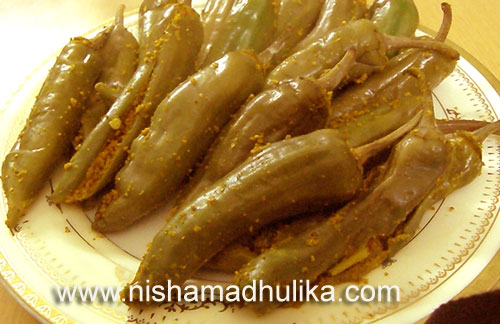 No matter how many varieties of dishes are laid on the table, pickles have their own importance. Mirch ka Achaar is an all time favorite but many feel scared of it being excessively spicy. So for those who want spicy but can't handle much of it, we have got a special pickle for you- Mattha Hari Mirch ka Achaar.
In the preparation of this pickle chilly is soaked in buttermilk which not only makes it soft and sour but also removes its spicy trait. Buttermilk completely removes the spiciness from the chilly to such an extent that even children can eat it.
हिन्दी में पढिये - Green Chilli Buttermilk Pickle Recipe
- Ingredients for Buttermilk Green Chilli Pickle
Green pepper(hari mirch) - 500 grams
Buttermilk(mattha) -  1 to 1.5 litre (enough to submerge the peppers)
Salt - 50 grams( 2 tbsp)
Yellow mustard - 4 tbsp (powder)
Saunff(fennel) powder - 2 tbsp
Methi - 1 tbsp
Turmeric powder - 1 tbsp
Heeng(asafoetida) - 1/6 tsp
Jeera(cumin seeds) - 2 tsp
Lemon - 2 (squeeze the juice)
Mustard oil - 2 tbsp
- How to make Buttermilk Green Chilli Pickle
Get fat green peppers from the market to make pickle. Wash peppers twice with clean water. Let the water dry.
You can make buttermilk from curd or it is available in any dairy. To make buttermilk from curd, firstly churn curd and mix with 4 times more water. Buttermilk is ready.
Put the green peppers in a plastic or glass container and soak in buttermilk. Place container in the sun, in 4-5 days the buttermilk will turn yellow. Stir the peppers twice in a day with a spoon and put the lower ones on top.
Check if a yellowish tinge has appeared on the peppers and if they have become softer than before. Take out the peppers from buttermilk and wash with clean water, there should be no buttermilk on any of the peppers.
Place peppers on a washed cloth and dry in the sun. 1 day in the sun from morning to evening is enough. Cut peppers lengthwise on one side keeping the other side stuck together.
Prepare the spices for the peppers.
Grind Heeng, Jeera, Saunff and Methi all together to make a coarse powder. Grind yellow mustard separately as it tends to get crushed faster then the other spices.  Add salt and turmeric powder to these grounded spices then put lemon juice and oil. Mix all the contents rigorously.
Fill pepper with the spices from the cut side to an amount which does not overflow or seem less. Fill all peppers with the spices. To make the pickle last longer take 4 tbsp mustard oil in a bowl. Dip one pepper at a time in the oil and put in the container. Pickle will become mouth watering in the next 4-5 days. Green Chilli Buttermilk Pickle is ready, this pickle has a shelf life of 6 months..
Tip
While preparing Chilly pickles or any other recipe and you feel a burning sensation in your hands then apply curd to it. Not only does curd remove the spicy trait of chilly but also removes the burning sensation.
Tags
Categories
Green Chilli Buttermilk Pickle Recipe
Nisha Madhulika
Rating:

5.00

out of

5