Vada Sambhar Receipe – Sambar Wada Recipe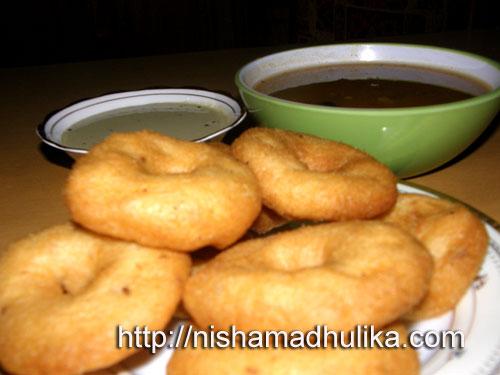 Sambhar Vada is originally a South Indian dish but it is famous all over the world. Puffy Dal Vada dipped in hot Sambhar and its distinctive Indian fragrance has no other alternate.
You surely go to your favorite restaurant in the city to have Sambhar Vada, Sambhar Idli or Sambhar Dosa.  Sambhar Vada can be prepared on Sunday or for guests or whenever you have a small party. So lets prepare start preparing this recipe.
हिन्दी में पढिये : Vada Sambhar Receipe – Sambar Wada Recipe
Ingredients for Sambar Vada:
Washed Urad dal - 200 grams (1 cup)
Moong/Chana dal - 100 grams (1/2 cup)
Salt - add to taste (3/4 tsp)
Ginger - 1 1/2 inch long piece ( grated)
Green chilli - 3 to 4 (finely chopped
Green chilli - 1 tbsp (finely chopped)
Oil - to fry Vada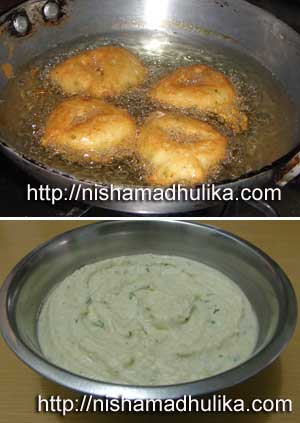 How to make sambar vada
Wash Urad dal and Moong/Chana dal. Soak them in water for 4-5 hours or the entire night.
Take out Dal from water and wash once them more. Grind wet Dal without adding water or just a little water. There should be very less water in it. Do not grind Dal into a very fine paste.
Put in salt,ginger, green chilli and green Dhaniya(coriander) to the grounded Dal then blend these well. The more you beat Dal it gets more soft. The mixture required to prepare Sambhar Vada is ready.
You can give shape to this mixture using your hands or a plastic sheet.  In southern India banana leaves are also used in place of plastic sheets.
Pour oil in a pan(kadhai) and heat, wet fingers in water. Place 1 or 1 2/2 tbsp of mixture on the wet fingers and using your thumb or the fingers of the other hand make a crater into a hole. Put this Vada in hot oil to fry, according to the oil in the pan make 3-4 Vadas and put them in one go. Turn over the Vada when its lower side turns brown. Fry till both sides turn brown then take it out. Similarly, take out all the Vadas. All of your Vadas are ready.
Before serving put Vadas in hot Sambhar(How to make Sambhar?) and enjoy its unique taste.
Serves -4
Cooking time - 75 minutes
Vada Sambhar Receipe – Sambar Wada Recipe video in Hindi

Tags
Categories
Vada Sambhar Receipe – Sambar Wada Recipe
Nisha Madhulika
Rating:

5.00

out of

5