Dal Idli Recipe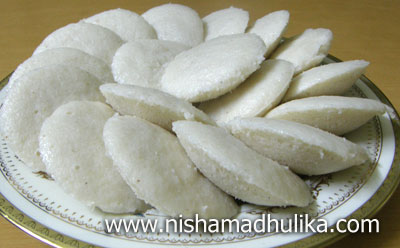 Idli is prepared from Dal chawal and if you are in a hurry, soak dal chawal before hand, grind and ferment, if not grounded and fermented then Idli can also be made from Rawa Suji.
Though Idli can be made instantly with Rawa/Suji, the taste and flavor of Idli prepared from Dal chawal is unbeatable. If hot Idlis with equally hot Sambhar is served to you then you will leave all your work and indulge in this treat.It is so soft that even a child of 8 months can eat it. You can have it for breakfast,lunch or dinner whenever you feel.
To make Idli from Dal chawal, soak Dal chawal, grind it and prepare a mixture and allow it to ferment. Idli will turn spongy only if mixture is fermented properly, so we have to be very attentive while while making the mixture. We also have to plan earlier, if we want to make the Idli on Sunday, then those living in hot places have to soak Dal on Saturday morning itself. While those living in cold regions need to soak Dal on Friday morning as fermentation is slow if the weather is cold. So lets start preparing Dal Idli.
हिन्दी में पढिये : Dal Idli Recipe
Ingredients for Idli
Rice(chawal) -  3 cup
Urad dal(washed) - 1 cup
Baking soda -  1/2 tsp
Salt - add to taste
Oil - To grease Idli stand
How to make Dal Idli
Clean Urad dal and rice. Wash and soak in water separately for 4 hours or the entire night.
Remove excess water from Urad dal and using less water grind it into a fine paste. Also remove water from rice and with a little water grind it into a thick paste. Mix the two together and prepare a thick mixture which does not flow freely when dropped from a spoon.
To ferment the mixture add salt to taste and baking soda then cover and place in a warm place for 12-14 hours. Fermented mixture doubles in quantity. Mixture for preparing Idli is ready.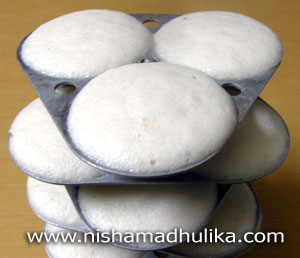 Make Idli:
Stir the mixture with a spoon, if it is too thick add little water. If you have the traditional utensil for making Idli then it would be much better. Else you can use Idli maker or cooker. I make Idli in a pressure cooker myself.
Pour 2 small glasses of water(500 grams) in the pressure cooker and place it on the gas to heat. Take out the Idli stand, clean, Grease all its plates with oil. Pour equal amounts of mixture into the moulds, fill all of them and fix to the Idli stand. To cook Idli place it stand in the cooker. Close the lid of the cooker, do not put whistle on the lid.
Cook Idli on a high flame for 9-10 minutes. Turn off the gas, Idlis are cooked. Open the pressure cooker, remove the stand, separate the plates, cool the Idlis off and with the help of a knife take them out and place on  a plate.  Idlis are ready.
Serve hot Idli with steaming Sambhar and coconut Chutney and eat.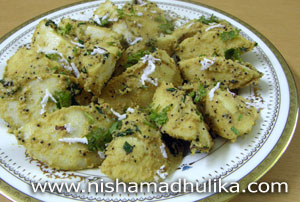 Idli  Fry Recipe
 You eat Idli with coconut chutney or peanut  chutney. Sometimes you tend to make too  many them and store them in the fridge for the  next day. Idli kept in the fridge loses some  moisture turns dry and do not taste good with  chutney. We will make Idli Fry of these Idlis.
To prepare Idli Fry put 1-2 tbsp oil in the pan, after frying some Rie, add 1-2 green chilli(finely chopped), some ginger(grated), 5-6 curry leaves and fry. In this masala put coconut/peanut chutney, little water, salt to taste, cut Idlis and fry for 2-3 minutes as you stir. You can also put chopped tomatoes if you wish. Take them out in a bowl, garnish wit finely chopped coriander. Yummy Idli Fry is ready, do tell us if you liked this recipe..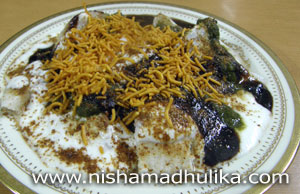 Idli Chat Recipe
Every dish after leaving its place of origin adapts to the taste and form of the new region. Though Idli is a dish originally from South India, it adapts to the local taste as it arrives to North India. We usually make Idli on Sundays and eat the leftover as chaat in the evenings. Have you made Idli chaat? Do give it a try.
To prepare Idli Chat place 2 Idlis(cut into 4-5 pieces) on a plate add green coriander chutney, sweet chutney, curd, Chaat masala, roasted Jeera(cumin), small Sev and pomegranate seeds if you have  on top. Mouth watering Idli Chaat is now ready.
Tags
Categories
Dal Idli Recipe
Nisha Madhulika
Rating:

5.00

out of

5