Rajasthani Patod Curry / Pitod ki Sabzi Recipe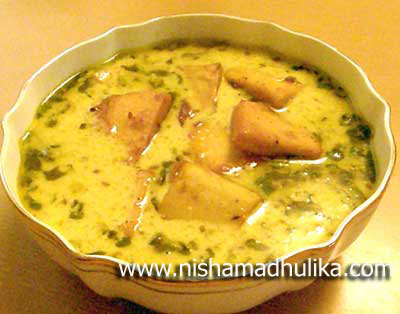 Pitod ki Sabzi is a traditional dish made in Rajasthan, if there are no vegetables in your fridge and you still want to make something special then do prepare Rajasthani Pitod ki Sabzi.
Besan(gram flour) plays an important role in traditional Rajasthani cuisine. The main ingredients used to prepare Rajasthani Pitod Curry are Besan and curd. Besan is shaped as Gatte and cooked in steam while preparing Rajasthani Besan ke Gatte.
Rajasthani Pitod ki Sabzi is prepared in the opposite manner, Besan mixture is cooked then solidified. Rajasthani Pator/Patod ki Sabzi does contain vegetables but not the green ones.
हिन्दी में पढिये : Rajasthani Patod Curry / Pitod ki Sabzi Recipe
Ingredients for Rajasthani Pitod ka Saag
To make Katli
Gram flour(besan) - 100 grams (1/2 cup)
Curd - 100 grams (1/2 cup)
Oil - less than 1 tbsp
Heeng(asafoetida) - 1 pinch
Jeera(cumin seeds) - 1/2 tsp
Salt - add to taste (3/4 tsp)
Ginger - 1 inch long piece (grated)
Oil - to fry Katli
To make Rasa/Tari
Curd - 400 grams
Green chillies - 2
Ginger - 1 inch long piece (make paste)
Oil - 1 or 1 1 /2 tbsp
Heeng(asafoetida) - 1 pinch
Jeera(cumin seeds) - 1/2 tsp
Turmeric powder - 1/4 tsp
Coriander(dhaniya) powder - 1 tsp
Red chilly powder - 1/4 tsp
Salt - add to taste (1 tsp)
Garam masala - 1/4 tsp
Green coriander  - 2 tbsp (finely chopped)
How to make Pitod ki Sabzi
Prepare Katlis
Filter gram flour and keep in a utensil, churn curd then put it in gram flour and mix. The mixture should be uniformly blended. Add 1 cup water(200 grams), salt, ginger paste and turmeric powder to the mixture .
Place a big utensil(in which this mixture is to be cooked) with oil on the gas and heat.Put Heeng and Jeera in hot oil, after Jeera turns brown put the curd-gram flour mixture and cook on a high flame(stir continuously with a spoon). After it comes to boil cook on a medium flame for 4-5 minutes as you stir mixture continuously.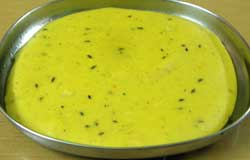 Grease a square plate or tray, pour this mixture in the greased plate and spread it evenly. Allow the mixture to cool for around 20 minutes, the mixture will solidify. Till the Katli for Pitod condenses let us prepare the Tari.
Prepare Tari :
Put green chillies in curd then churn, also add ginger paste to it.
Pour oil in a heavy based utensil and heat, put Heeng and Jeera in hot oil. After Jeera turns brown add turmeric powder, coriander powder and red chilly powder. Pour curd in these spices then cook on a high flame while you continuously stir it. After Tari comes to boil stop stirring, add salt and let it boil for 3-4 minutes. Turn off the gas, put garam masala and green coriander then mix. Tari required for Pitod is ready.
Fry Katlis for Pitod
You have prepared Tari for Pitod, withinh this time the Katlis for Pitod must have solidified well. Cut it into 1.5 inches of square or diamond shapes of Pitod Katlis with a knife.
Pour oil in a frying pan(kadhai) and heat, put 3-4 Katlis in the pan. Turn over the Katlis to make them crisp on both sides. Similarly fry all Katlis and keep them on a plate. Katlis do not need much oil to fry but you can also fry them like Aloo Tikkis if you want. Katlis are ready to be put in Tari.  



Put all the Katlis or as much you require at the moment in hot oil. Pitod Curry is ready. Serve hot Pitod Curry with Puri, Parantha, Naan or rice.
Traditionally Tari is made from curd for Pitod ki Sabji, but according to one's taste we can make onion, tomato or any other Tari you prefer and put Pitod in it. Your curry is ready..!!
Note
To condense Katli stir gram flour properly, if gram flour is not cooked well it will not be sufficiently thick in texture and Katli will become soft and sticky.
Serves - 4
Cooking time - 1 hour
Rajasthani Patod Curry video in Hindi

Tags
Categories
Rajasthani Patod Curry / Pitod ki Sabzi Recipe
Nisha Madhulika
Rating:

5.00

out of

5