Sweet Shakarpara Recipe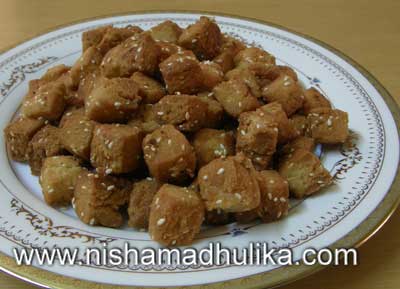 Sweet homemade Shakarparas with hot tea! Yummy! Let's make Shakarparas today!
Shakarparas are prepared in two ways. Either sugar or jaggery is kneaded in the dough or shakarparas are sugar coated later. They can have different flavors as well by adding poppy seeds or sesame seeds. They are easy to make and good to taste. We will make sweet Shakarparas with sugar kneaded in the dough.
इस पोस्ट को हिन्दी में पढ़ें
शकरपारे

Ingredients for Sweet Shakarpara
Flour (Maida) – 250 grams (2 ½ teacups)
Ghee – 50 grams (1/2 teacup)
Cream (Malai) – 25 grams (1/4 teacup)
Sugar – 50-60 grams(1/2 teacup)
Milk - 50-60 grams(1/2 teacup)
Poppy Seeds (Khus Khus) – 1 tablespoon
Refined Oil – for frying
How to make Sweet Shakarpara
Grind sugar finely.
Sift flour, add ghee, sugar and cream and mix well.
Knead firm dough with milk. Mix in poppy seeds. Cover and keep aside for 20 minutes.
Make two small balls of dough. Roll a puri (round) of ½ cm thickness. Cut Shakarparas of 1 cm diameter.
Heat oil in karai (wok), put cut Shakarparas in hot oil. Fry on medium flame till they turn brown, turning regularly. High flame will not cook them properly while at low flame they may break or split in oil.
Keep the Shakarparas on a plate on paper napkins.
Poppy Seeds flavoured Shakarparas are ready. Cool and store them in an air tight container. Eat whenever you want.
For sesame seeds flavoured Shakarparas – Add sesame seeds in place of poppy seeds to get flavours of sesame seeds. Knead 1 tablespoon sesame seeds in dough and follow rest of the recipe.
Shakarpara Recipe Video in Hindi
Tags
Categories
Sweet Shakarpara Recipe
Nisha Madhulika
Rating:

5.00

out of

5