Mango Salona Pickle Recipe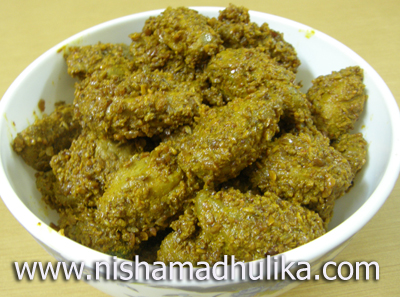 This is a special pickle made in the regions of Rajasthan and Braj. Ripe and unripe both types of mangoes are available in the market in this season. So it is a nice time to prepare this Mango pickle.
The mangoes required for Salona are available in the beginning of the mango season. Small mangoes(with a not very hard seeds) fall from the trees due to fast winds. During this time small mangoes are available at the market in plenty. So it is quite obvious that we prepare Mango Salona pickle in the beginning of the mango season.
It takes 12 days for Salona to get ready to be eaten. The process is a bit long but very easy and the result is awesome.So we will prepare Mango Salona Pickle today.
हिन्दी में पढिये - Mango Salona Pickle Recipe
Ingredients for Mango Salona Pickle
Mangoes(small) - 2 kg(40-45)
Mustard oil - 250 grams(1 1/4 cup)
Salt - 200 grams(1 cup)
Turmeric powder -  2 tbsp
Red chilli powder - 1 tbsp
Saunff(fennel) - 75 grams (3 tbsp)
Methi seeds - 75 grams (3 tbsp)
Ajjwain(carom seeds) - 1 tbsp
Heeng(asafoetida) - 1 tsp

- How To make Mango Salona Pickle
Get mangoes from the market. Wash them with clean water twice. Place them in a strainer and let the water dry.
Peel all the mangoes.
In a big glass or plastic container(which is big enough to shake the mangoes) put the peeled mangoes the add 100 grams salt with 1 tbsp turmeric powder and mix well. Close the lid of container and leave it aside for a week. But do shake the mangoes in the container twice in a day.
After 1 week take out the mangoes and keep them in the sun to dry. Sour water releases from the mangoes which has to be stored in a glass container as it will be used while preparing the pickle.
If the sun is strong then the mangoes need just 1 day to dry else keep it for 2 days. Keep the mangoes covered, in the room during night.
The mangoes have dried. This does not mean the mangoes have to look totally dried up(they have to be shriveled and  appear a bit pale as shown in the picture). Mangoes are ready for Salona.
Now lets prepare the spices for Salona. Clean the seeds from Saunff, Methi seeds and Ajjwain then crush them to make a coarse powder. We already have turmeric,red chilli and salt in powder form. Put Heeng in a small mortar and crush to make a coarse powder.
Pour oil in a pan(kadhai) and heat. When the oil is heated turn off the gas. After some time  when the oil has cooled a bit put Heeng in it. Then put turmeric powder and stir with a spoon. Now put in the remaining spices, salt to oil and mix well.
To this oil mixed with spices add the sour water released from the mangoes and mix(If you feel there is too much of sour water then pour only half of it).
The spices required for Salona are ready. Put the dried mangoes in the pan and mix with the spices. After it cools down fill them in a glass or plastic container and store. In the next 2 days mangoes will swell after absorbing all the spices,sour water and oil making it very tasty.
Mango Salona Pickle is ready. You can have it right away, anyway you can not keep your self from tasting it while preparing the pickle.
This Salona pickle can be stored for many days in this way and eaten. If you want to increase it's shelf life to 1 year or more then after 1 month put oil enough to submerge the mangoes and store.
2 months later the seeds in this pickle also become very tasty to eat. Traditionally Salona seeds are also used as a cure for stomach aches.
Mango Salona Pickle Recipe video in Hindi
Tags
Categories
Mango Salona Pickle Recipe
Nisha Madhulika
Rating:

5.00

out of

5