Stuffed Brinjal Fry Recipe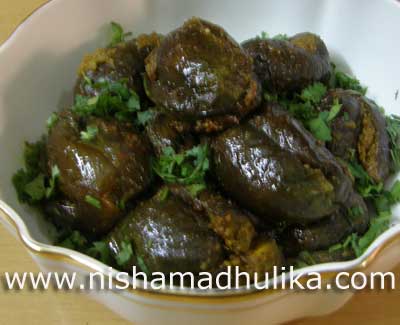 Stuffed vegetables are often good in taste. Many people do not eat brinjal, but Stuffed Brinjals are liked by them.
You can make this recipe in many ways. One of the best way is to make stuffed brinjals by stuffing peanut masala into it. So lets make Stuffed Brinjal Fry today.
इस रेसीपी को हिन्दी में पढिये -  Stuffed Eggplant recipe
Ingredients for Stuffed Brinjal Fry
Brinjal - 250 gms.
Salt - 3/4 tea spoon (according to the taste)
Turmeric powder - 1/4 tea spoon.
Red chilli powder - 1/4 tea spoon.
Garam masala powder - 1/4 tea spoon.
Coriander powder - 11/2 tea spoon.
Anise seeds - 2 tea spoon.
Amchoor powder - 1/2 tea spoon.
Green chilli - 2 (chopped)
Ginger - 1 inch long piece (grated)
Oil - 2 table spoon.
Heeng - 1 pinch.
Cumin seeds - 1/4 tea spoon.
Potato - 2 (optional)
Coriander leaves - 1 table spoon (chopped)
Method - How to make Stuffed Brinjal Fry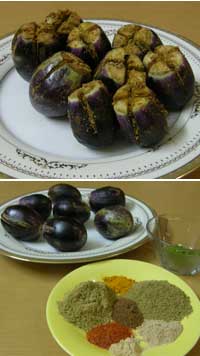 Peel the potatoes and dip them into the water. Wash the brinjals thoroughly with water.
Mix salt, turmeric powder, red chilli powder, garam masala, anise seeds, amchoor powder, green chilli and ginger in a plate. Mix all the ingredients well. The filling to stuff the masala is ready.
Separate the stems from the brinjals and cut them from the stem side in a way that it remains joined from the second end. Fill the masala inside the cut part of the brinjals with the help of a spoon.
Heat oil in a pan and tamper the heeng and cumin seeds into it. Once the cumin seeds tampers put each brinjal into the pan. Cover it and let the recipe cook for 10 minutes on low flame.
If you putting potatoes into the recipe, then cut the potatoes into small pieces. Once the cumin seeds tampers put salt and potatoes into the pan. Roast the potatoes for 3-4 minutes and make sure that they do not stick at the corners of the pan. Now put the brinjals one by one into the pan.
Cover the pan and cook the recipe for 8-10 minutes. Open the lid and check the brinjals with the help of a ladle and then flip the side of the brinjals.  Cover the pan again and cook for another 6-7 minutes. If the brinjals in the center are cooked then shift them to the side and put the one's at the corner in the middle of the pan. Cover the pan and cook for 4-5 minutes. Open the lid and see that the brinjals and potatoes are  properly cooked. Stuffed Brinjal Fry is ready.
Tranfer the recipe in a serving bowl and garnish with coriander leaves. serve it with naan, parantha and chapatis.
Tags
Categories
Stuffed Brinjal Fry Recipe
Nisha Madhulika
Rating:

5.00

out of

5