Dum Aloo Recipe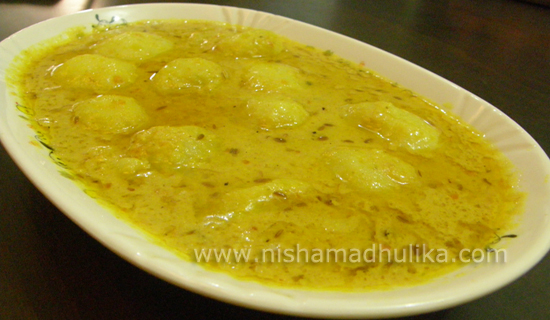 Dum Aloo is famous through out India. Let's prepare Dam Aloo recipe.
Ingredients for Dum Aloo Recipe
Small size potatoes- 400 Gms or 14 in number
Cumin seed- 1/4 small spoon
Turmeric powder- 1/4 small spoon
Chilli powder- 1/4 small spoon
Garam masala- 1/4 small spoon
Coriander powder- 1 small spoon
Ginger- 1 piece
Tomato- 150 Gms
Pure curd- 100 Gms
Cashew nuts- 50 Gms
Green chilli- 2
Green coriander- 100 Gms
Salt- (according to taste)
Refined oil- 2 table spoon
How to make Dum Aloo Recipe
Boil the potatoes, allow them cool naturally and peel them properly. Make hole into the potatoes and fry them in a frying pan until they turn into brown. Now take out the potatoes in a bowl. Peel the potatoes, put the oil on them and boil properly in a microwave oven.
Grind the tomato. green chilli, ginger, cashew nuts and dry raisins. Put one table spoon oil into the pan and heat the pan. First of all put the cumin seed into the pan and then put like turmeric powder, coriander powder, chilli powder into the pan, then put the paste of tomato and cashew nuts into the pan and cook it . When the oil is separated from the masala, then put the churned curd into it and continue stirring. When it starts boiling, pour 100 Gms of water into it. Put these potatoes and salt (according to taste) into the tari. Boil it for 2 to 3 minutes and turn off the burner. Put the garam masala and half coriander into it. Patato Dum (Dum Aloo) is ready. Take out it in a plate and garnish it with the rest of the green coriander and serve it to the guest.
Read this Recipe in Hindi
Tags
Categories
Dum Aloo Recipe
Nisha Madhulika
Rating:

5.00

out of

5