Lauki ki kheer - Bottle Gourd Sweet Recipe - Gourd Sweet Pudding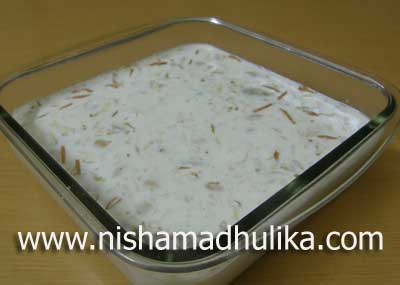 Lauki Kheer (Gourd Pudding) is not only tasty it is also very easy to digest. Let's learn to make Lauki Kheer today.
You can prepare Lauki Kheer (Gourd Pudding) with Mawa too, but then the flavor of this kheer is no longer of the lauki (Gourd). That's why we are not using Mawa in this pudding.
हिन्दी में पढिये - Lauki ki kheer - Bottle Gourd Sweet Recipe - Gourd Sweet Pudding
Ingredients for Lauki ki Kheer
Milk – 1 liter  (full cream)
Lauki (Bottle Gourd) – 500 grams
Ghee – 1 tbsp
Cashew nuts – 10 (Cut each Cashew into 6-7 pieces).
Raisins (Kismis) – 25-30 (Remove the stalks and clean with cloth).
Sugar – 80-100 grams (less then ½ cup)
Cardamom – 4-5 (Peel and ground).
Almonds – 4 (Cut into thin stripes)
How to cook Lauki Kheer
Put milk for boiling in a thick-bottomed pot.
Peel the skin from the Lauki (bottle gourd), wash it, remove the seeds and grate it finely.
Cook the grated Lauki (bottle gourd) in the micro-wave for 5 minutes, or in a pan add ghee and when ghee melts add gourd. Stir constantly and cook for 5-6 minutes.
When the milk starts boiling, add the lauki, cashews and raisins to it and stir with a stirring spoon. Cook it on low heat. Keep stirring every 3-4 minutes. Cook the Kheer until the lauki and milk are mixed well with each other and acquire a thick consistency. Add sugar to the Kheer and let it cook for 3-4 minutes.
The Lauki Kheer is ready. Turn off the gas, add the cardamoms to the kheer and mix well. Take out the kheer into a serving bowl, and garnish it with the almond stripes. Mouth drooling lauki kheer is ready. Serve it warm or cold after your dinner as a sweet dish.
Suggestion:
Lauki kheer can also be prepared in condensed milk. If using condensed milk then avoid adding sugar or add in very little quantity.
Add any dry fruits ar per your preference or taste.
Lauki ki Kheer recipe | Doodhi Kheer Recipe Video in Hindi
Tags
Categories
Lauki ki kheer - Bottle Gourd Sweet Recipe - Gourd Sweet Pudding
Nisha Madhulika
Rating:

5.00

out of

5