Bajra Churma Laddu - Millet Churma Ladoos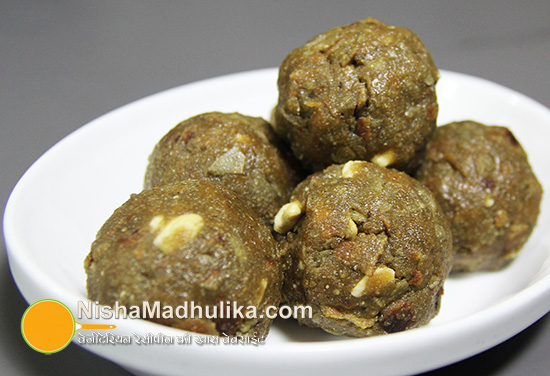 Roti prepared with millet flour is liked alot, especially during winters. By roasting these rotis until crispy we can make Bajra Churma ladoo or Bajra Maleeda. Whenever you make Bajra roti, don't forget making Bajra churma ladoos. 
हिन्दी में पढिये : Bajra Churma Laddu - Millet Churma Ladoos
Ingredients for Bajra Choorma Laddu
Millet flour - 1.5 cup (160 grams)
Jaggery - 3/4 cup (160 grams)
Ghee - 1/3 cup (80 grams)
Cashews - 8-10
Green cardamom - 3-4
How to make Bajra Choorma Laddu
Take millet flour in any vessel and mix 1 tsp ghee into it. With help of lukewarm water knead tight and stiff dough. 
Make two dough balls from the dough. Roll one dough ball with help of your hands. Flatten the dough ball very gently with your palms and dust with some dry wheat flour. Now place it over rolling pin and roll into thick parantha. 
Preheat griddle and spread some ghee over it. Now gently place the rolled parantha over griddle. When parantha gets slightly brown from beneath, flip the side and roast until it gets golden spots on the other side as well. When parantha is slightly roasted from beneath then evenly spread some ghee over the upper side. Flip the parantha and spread some ghee over this side as well.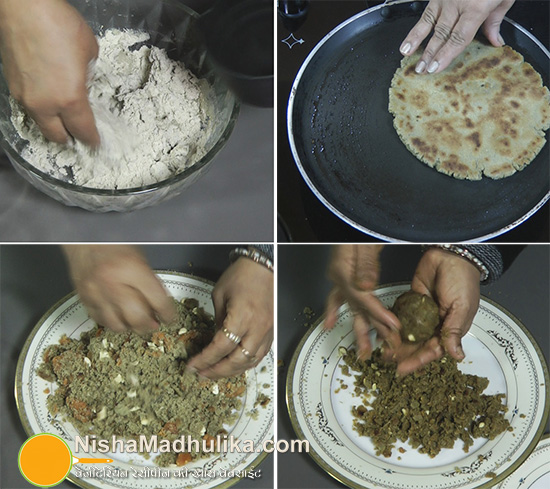 Press the parantha gently and roast until it gets golden-brown spots on both sides. Take off the parantha from flame and place it over a plate. Likewise prepare second parantha as well. 
Make Churma:
When parantha gets bit frigid, break it finely.
Chop cashews in small chunks, Peel cardamom and make powder. Now mix these in finely grounded parantha. Also finely ground jaggery and mix in the mixture. Add 1 tsp ghee into it and mix all ingredients really well. Mixture for making ladoos is ready. 
Take one fist full of mixture and roll with both hands giving it a round shape. Place the ladoo in a plate. Churma laddo is ready. Bajra Churma ladoo can be consumed for up to 2-3 days. 
Suggestion:
You can add dry fruits as per your taste. 
Quantity of jaggery can be increased or decreased as per your preference. 
Rest of the Bajra churma can be used in similar way for making ladoos. 
For 6-8 ladoos
Time - 40 minutes
Tags
Categories
Bajra Churma Laddu - Millet Churma Ladoos
Nisha Madhulika
Rating:

5.00

out of

5