Cashew & Poppy Seeds Gravy - Dry fruits Gravy- Basic Gravies for Curry - Part 1 -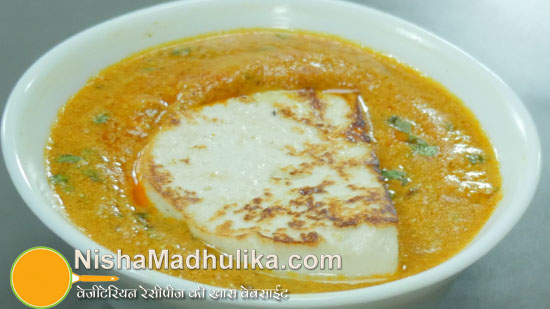 Gravy made from dry fruits, tastes amazing to the sabzi. People will be praising for your cooking skills. Here is a special Cashew Cashew - Poppy seeds gravy
Ingredients for Kaju Khaskhas Tari
Cashew Paste - 2 tbsp
Poppy Seeds paste- 2 tbsp
Oil- 3 to 4 tsp
Cumin seeds - 1/4 tsp
Turmeric powder - 1/4 tsp
Coriander powder - 1 tsp
Tomatoes - 2 (150 gms)
Ginger- 1/2 inch piece
Green chili - 1
Red chili powder - 1/4 tsp
Garam masala - 1/4 tsp
Salt- 1/3 tsp or to taste
Green Coriander -2 to 3 (finely chopped)
How to make Poppy seeds & Cashew nuts gravy
Take the poppy seeds and the soak in water for up to an hour and grind later.Similarly grind the cashews as well.
Make tomato green chili ginger paste.
Heat a pan and Add 3 to 4 tsp oil to it. When oil is sufficiently hot, add ¼ tsp cumin seeds to it and sauté. Add ¼ tsp turmeric powder. Keep flame low. add 1 tsp coriander powder. Add tomato green chili ginger paste. Add ¼ tsp red chili powder. Sauté the masala until oil starts separating from it. Keep flame low
Add cashew paste and poppy seed paste (2 tbsp cashew paste and 2 tbsp poppy seed paste.) Stir and sauté the masala until oil starts leaving the edges of masala. Add ½ to ¾ cup of water as the desired consistency of gravy.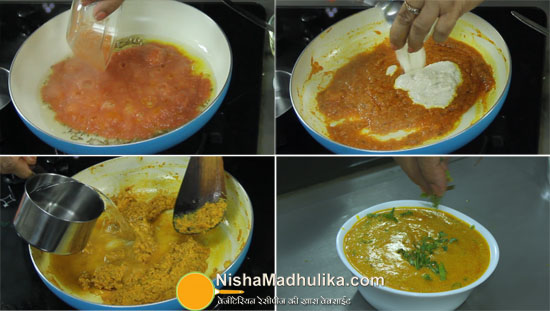 Mix well then add ¼ tsp garam masala, 1/3 tsp salt or to taste. Mix the masala thoroughly and add some green coriander and stir.
Cook it on low flame for 3 to 4 minutes. Turn off the flame. Transfer the gravy to the bowl.
Add fried paneer to the gravy or any fried veggie of your choice and have a mouth drooling sabzi to relish.
Suggestion :
We used poppy seeds and cashews paste but you can also use melon seeds paste. Or prepare gravy alone with the melon seeds paste or cashew paste or poppy seeds paste.
You can also mix all these three dry fruits for making the gravy as well.
Basic Gravies for Curry - Part 1 । विभिन्न प्रकार की ग्रेवी - 1 । Vegetarian Curries and Gravies
Tags
Categories
Cashew & Poppy Seeds Gravy - Dry fruits Gravy- Basic Gravies for Curry - Part 1 -
Nisha Madhulika
Rating:

5.00

out of

5