New Mothers ke liye recipe - Food for new Mothers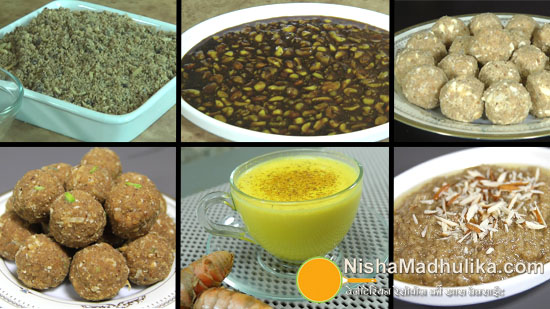 Recipes for new mother
Healthy mothers make a healthy child. It is said that many a recipes are prepared in accordance with new mothers.The main recipes are harira, saunth ladoo, atta halwa. Do not forget special Panjiri for new mothers. These recipes are delicious as wel as healthy.
Special Panjiri for new mothers
This is a special panjiri for new mothers, with cumin seeds, dry fruits and kamarkas. Bengal Kino or Butea Frondosa is used in this recipe as it is seen in this recipe. This tightens the waist muscles and brings it in shape. Kamarkas is red colored aromatic gum extracted from the Palash tree.
Harira
Made of dry fruits, turmeric and ghee , harira is very beneficial for new mothers. Turmeric is used specially to relieve the childbirth issues and pains. The cumin seeds used in it enhances the milk production in new mothers. Many a new mothers are regularly given cumin water after childbirth.
Saunth ladoo
Ginger powder has a very hot effect. Ladoos made fom these give warmth to body. Ginger powder ladoo gives relief from body pain to the new mothers and a new mothers body gains strength. These ladoos are made with jaggery, which gives strength to the body. This traditional ladoo is mainly given to new mothers with milk in the morning and evening.
Mewa Ladoo
Mewa ladoo are given to new mothers to bring in energy and activeness. New mothers are very weak after childbirth. So this ladoo gives ample vitamins, minerals etc needed by the new mother.
Khaskhas Halwa
Due to its warm effects Khas khas halwa is specially given to new mothers. It gives energy to new mother and helps increase milk.
Turmeric Milk
Turmeric Milk which is famous as turmeric latte is very benefecial for new mothers. Turmeric has such effects which relieves issues and pains after childbirth. Turmeric having very warm effects, gives warmth to the new mothers body. As turmeric is very healthy it improves the health of new mother.
These recipes are specially made for new mothers so that the newborn is healthy and mothers can take better care of the new born baby. Other than these many healthy food are given to new mothers such as Haleem Ladoo, coconut paag, gond ladoo, makhana paag, etc. We have prepared a special playlist for new mothers.
Tags
Categories
New Mothers ke liye recipe - Food for new Mothers
Nisha Madhulika
Rating:

5.00

out of

5