Jackfruit Bharwan Masala Paratha - Raw Jack Fruit stuffed Paratha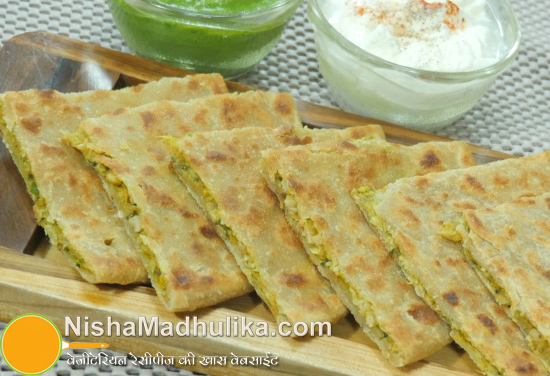 Stuffed Parathas taste sumptous. So let's prepare Jack fruit stuffed Parathas.
हिंदी में पढ़िए - कटहल भरवां मसाला परांठा - Jackfruit Bharwan Masala Paratha - Raw Jack Fruit stuffed Paratha
Ingredients for Raw Jack Fruit stuffed Paratha
Wheat flour - 2 cup ( 300 gms)
Jackfruit- 250 gms
Chickpea flour- 2 tbsp
Oil - 3 to 4 tbsp
Green Coriander- 2 to 3 tbsp (finely chopped )
Ginger paste - 1 tsp
Green chili- 2 (finely chopped )
Garam Masala - ¼ tsp
Cumin Powder- ½ tsp
Coriander powder- 1 tsp
Turmeric powder- ⅓ tsp
Dry Mango powder- ⅓ tsp
Salt- 1.25 tsp or to taste
How to make Jackfruit Bharwan Masala Paratha
Take 250 gms jackfruit and rinse it water. Now finely chop the jackfruit. Take off the skin behind the seeds as it hard and doesn't get soft even after getting boiled and will not taste good either. Then discard the seed and remove the peel.
To boil the jackfruit
add it to the pressure cooker. Add 1/4 (3 to 4 tbsp) cup water to it. Close the pressure cooker with lid and cook until it whistles once. Once it whistles reduce the flame and continue cooking the jackfruit on low flame for 3 to 4 minutes.
After 4 minutes turn off the flame.Let the pressure release on itself.
Open the lid once the pressure is released, Check the jackfruit Press it down, to see if it has turned tender and is getting mashed easily. Drain out the jackfruit from water.
Take out jackfruit in a sieve so that water drains back into the bowl. Then squeeze out water from jackfruit and mash it very finely.
To prepare the dough for paratha
Take 2 cup wheat flour in a big mixing bowl, add 1/2 tsp salt to it, followed by 2 tsp oil, then add water in small portions and knead soft dough. We have used less than 1 cup of water is used for kneading this much quantity of dough. Cover and keep the dough aside for 20 minutes to set and then use for making the paranthas.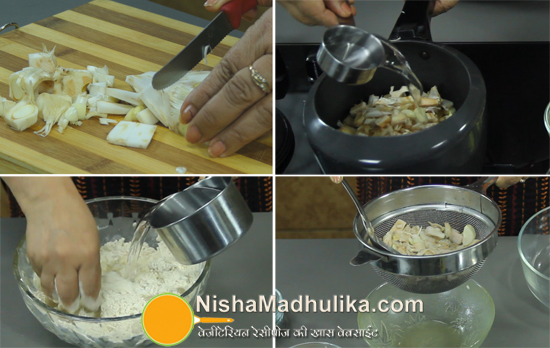 To prepare the stuffing heat a pan. Add 2 tsp oil to the pan. Then add 2 tbsp chickpea flour, add to it. Stir constantly and roast until there is change in color and it turns fragrant.
Once chickpea is roasted mix the spices to it . Add 1/2 tsp cumin powder, 1 tsp coriander powder, 1/3 tsp turmeric powder, 2 finely chopped green chilies and 1 tsp ginger paste. Mix everything and saute the spices for a while.When the spices are roasted well add mashed jackfruit to it and mix it. Add 3/4 tsp salt or to taste, 1/4 tsp garam masala, 1/3 tsp dry mango powder and mix everything thoroughly and saute the jackfruit. Stuffing is roasted well, mix some green coriander to it. Turn off the flame and transfer it to a bowl and let it cool.
To roll out the parathas,
After 20 minutes, dough is ready. Grease your hands with some oil and knead the dough again. Turn on the flame and heat the tawa. Make small lump from the dough and make round dough ball. Flatten it like this giving it shape like peda. Dust the dough ball with some dry flour.Roll it out into 3 to 4 inch diameter parantha. Keep the dough covered to prevent it from drying. Apply some oil over it and layer some stuffing over it. Add equal amount of stuffing as that of dough. Lift the parantha from all sides and close the stuffing thoroughly. Flatten it out with your fingers to evenly spread out the stuffing. Lift up the stuffed dough ball,coat it with dry flour,and roll out 6 to 7 inch in diameter.
Heat the tawa , once it is rightly hot, spread some oil over it. Place the parantha over tawa to roast. Let the parantha roast from beneath. Flip it once it has roasted ,apply a little oil too. Meanwhile roll out another paratha. Press down the parantha using a ladle or wooden spatula from all sides. Flip it. Flip the side and roast it from the other side as well until it gets golden brown spots. Keep the flame medium.Place the roasted parathas over a bowl on the plate.Make all likewise. $ to 5 parathas can be made with this quantity of dough.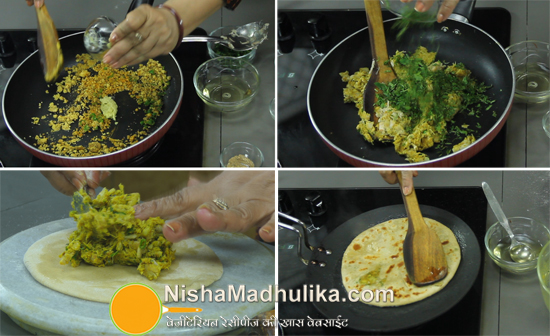 When Parantha has turngolden brown from the other side as well, take it off from tawa and place over a bowl kept above the plate. With this much dough 4 to 5 paranthas can be prepared. Super tempting jackfruit paranthas are ready to be served. Serve these flavorsome jackfruit paranthas with chutney, curd or any curry as per your taste.

Suggestion :
Use raw jackfruit for making the paranthas. Raw jackfruit comes white in color, whereas ripe jackfruit is yellow in color, avoid using the yellow colored jackfruit.
Keep the size of parantha big or small as per your preference.
kept the parantha over a bowl when warm .If we keep the parantha directly over the plate then it turns soggy from beneath.
Jackfruit Bharwan Masala Parata - कटहल भरवां मसाला परांठा -Raw Jack Fruit stuffed Paratha
Tags
Categories
Jackfruit Bharwan Masala Paratha - Raw Jack Fruit stuffed Paratha
Nisha Madhulika
Rating:

5.00

out of

5