Bajra Khichdi | Pearl Millet khichdi - Winter Special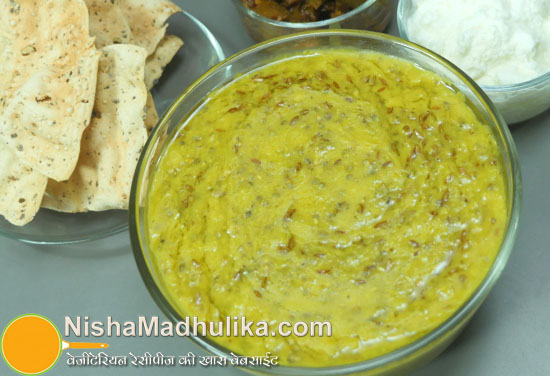 Recipes prepared from Bajra gives you energy and strength to bear the winter season. Let's prepare yummy Bajra Khichdi and relish it this season.
हिंदी में पढ़िए - बाजरे की खिचड़ी | Bajra Khichdi | Pearl Millet khichdi - Winter Special
Ingredients for Pearl Millet khichdi - Winter Special
Soaked Millet - 1/2 cup
Moong dal - 1/2 cup (100gms)
Ghee - 2 tbsp
Cumin seeds - 1/2 tsp
Asafoetida - 1/2 pinch
Green chili - 1 (Finely chopped )
Ginger paste - 1/2 tsp
Turmeric Podwer- 1/4 tsp
Salt - 3/4 tsp (or to taste)
How to make Bajra Khichdi
Take millet clean,wash and soak in water for 8 to 9 hours.Wash Moong dal too.
After 8 to 9 hours, Remove excess water.Keep the millet in a sieve for 10 to 15 minutes for extra water drains out. Keep it in a bowl.
Put the soaked bajra in a jar.Run it on slow speed. Grind the millet 3 times for 1/2 minutes each. Millet is churned,take it out in a plate.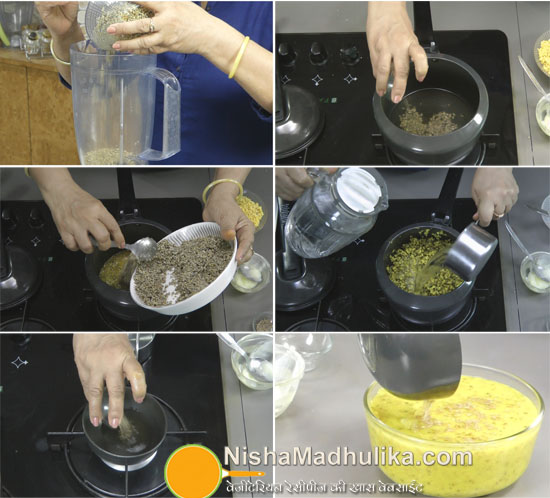 Heat a cooker for making Khichdi. Add 1 tbsp ghee to the cooker and let it heat. When hot, add cumin seeds, 1/2 pinch asafoetida,green chili, ginger paste, turmeric powder. Slightly stir the spices.
Add millet, moong dal,stir and roast it for 1 minute.Add 3 cups water.add salt and stir it.Close the lid of the cooker and cook until 1 whistle.
After a whistle, Reduce flame to minimum.Cook the khichdi on low flame for 5 minutes.
After 5 minutes, Turn off flame.Keep the khichdi in cooker till pressure escapes from it. Pressure is released from cooker.Open the lid of the cooker,keep it in a bowl.For tempering, heat a tadka pan.Add 1 tsp ghee,add cumin seeds, let it roast.
Pour the tadka over the khichadi. Slightly mix it.Delicious and mouth drooling Bajra Khichadi is ready.You can serve this Khichdi with curd, pickle , papad and chutney.
Suggestion :
We have added asafoetida for tempering. You can also add garlic and onion if desired.
Traditionally veggies are not added to Bajra Khichdi still you can add peas, tomato, potato and cauliflower etc if desired.
You can adjust the quantity of ghee as desired.
Bajra Khichdi | बाजरे की खिचड़ी | Pearl Millet khichdi - Winter Special
Tags
Categories
Bajra Khichdi | Pearl Millet khichdi - Winter Special
Nisha Madhulika
Rating:

5.00

out of

5