Aloo Bhujia Namkeen Farali - Alu Bhujiya for Navratri Vrat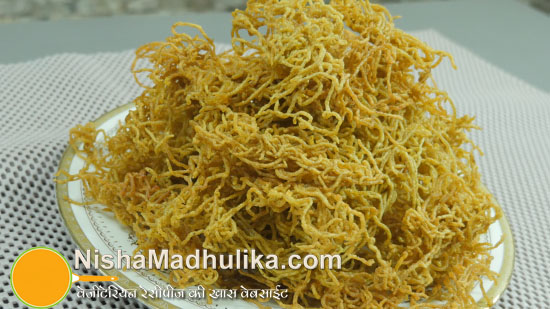 Crispy crunchy aloo bhujiya namkeen prepared with water chestnut flour and boiled potato is a great variation to our navratri meals.
हिन्दी में पढिये : Aloo Bhujia Namkeen Farali - Alu Bhujiya for Navratri Vrat
Ingredients for Alu Bhujiya for Navratri Vrat
Boiled Potatoes – 3 ( 300 gms )
Water Chestnut Flour – 1 cup ( 150 gms )
Rock salt – ¾ tsp
Black pepper powder- ½ tsp
Turmeric powder- 1/3 tsp (optional )
Oil – for frying
How to make Aloo Bhujia Namkeen Farali
Knead soft dough
Peel the potatoes and grated them. Mix these grated potatoes to the flour, followed by sendha salt, black pepper powder and turmeric powder. Mix everything really well and knead soft dough. Mix 1 to 2 tsp oil to the dough and knead until smooth.
Stuff the sev machine with dough
For making the bhujiya take a sev making machine. Fit the plate with fine holes and grease the manchine cylinder with some oil. Apply some oil over your hands and make lump from the dough. Roll it out in to long log shape an fit it inside the cylinder. Put on the piston over machine.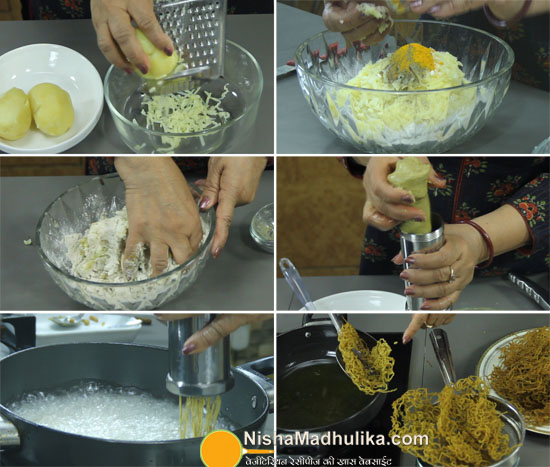 Fry the sev
Heat enough oil in a wok. Bring your hand over the wok to check if the oil is rightly hot. If you feel the warmth then the oil is rightly heated. Medium hot oil is used for frying the bhujiyas. Press the piston down and drop the sev into the machine directly. Drop as many sev as possible at once. Keep the flame low. A layer of froth form in the oil. When the froth settles down, flip the side of sev and continue frying until there is change in the color. Drain out the fried sev over a sieve placed above bowl so that excess oil drains out. After meanwhile, transfer the sev to a plate. Similarly prepare remaining sev as well.
Add some more dough to machine and continue making the sev. It takes 3 to 4 minutes in frying sev at once.
Crispy and delicious falahari aloo bhujiya is ready. Break them a little and store in any air tight container and relish eating for up to a month. These crispy falahari bhujiya can be consumed in any vrat.
Suggestions
You can skip the use of turmeric powder.
These sev are little thin so they get fried quickly.
Aloo Bhujia Namkeen Farali - व्रत वाली आलू भुजिया - Alu Bhujiya for Navratri Vrat
Tags
Categories
Aloo Bhujia Namkeen Farali - Alu Bhujiya for Navratri Vrat
Nisha Madhulika
Rating:

5.00

out of

5