Palak Bharwan Paratha - Spinach Stuffed Paratha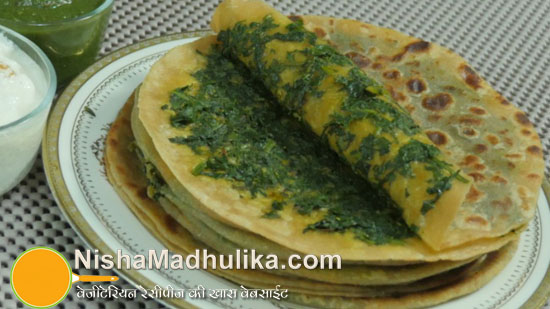 These super tempting and crispy spinach stuffed paranthas are best to start your day.
हिन्दी में पढिये : Palak Bharwan Paratha - Spinach Stuffed Paratha
Ingredients for Spinach Stuffed Paratha
Wheat flour - 2 cups (300 grams)
Spinach- 4 cup ( 300 grams)
Ghee - 3 to 4 tbsp
Salt - ¾ tsp or to taste
Green chili - 1 (finely chopped)
Ginger- ½ tsp (paste )
Coriander powder- ½ tsp
Cumin Powder- ¼ tsp
Turmeric powder- ¼ tsp
How to make Palak Bharwan Paratha
Knead the dough
Add 1/2 tsp salt and 1 tsp ghee in the flour. Now add water in small portions and knead soft dough. For kneading this much quantity of dough less than 1 cup of water is used. Cover and keep the dough aside for 20 to 25 minutes.
Prepare Stuffing
Heat a pan and add 1 tsp ghee to it. When the ghee is hot add cumin seeds and reduce the flame to prevent the spices from browning. When the seeds splatter, add finely chopped green chili, ginger paste, turmeric powder, coriander powder and saute the masala for a while. Also add finely chopped spinach and salt. Mix everything really well. Stir and continue cooking until the juices from spinach are absorbed. Stuffing is ready, transfer it to a bowl.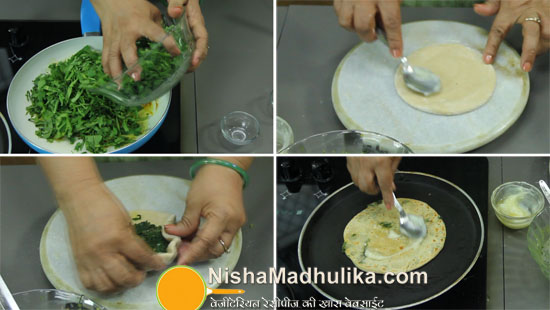 Stuff the paranthas
Grease your hands with some ghee and knead the dough. After this, make small lump from the dough and flatten it a little giving a shape of peda. Dust the dough ball with some dry flour and roll out into 3 to 4 inch diameter round sheet. Apply some ghee over it evenly and place 1 tsp stuffing over it. Lift up the parantha from all sides and close the stuffing. Flatten it a little with your hand to spread out the stuffing evenly.
Roll out the parantha
Dust the stuffed dough ball with some dry flour and roll out into 5 to 6 inch diameter thick parantha. Dust the parantha again with some dry flour if it sticks to the rolling board.
Roast the parantha
Heat a tawa and evenly spread some ghee over it. Place the rolled parantha over the tawa and when it is roasted from beneath flip the side and continue cooking until it gets brown spots on the other side as well.
Apply some ghee over this side and turn the side. Apply some ghee over this side as well and roast the parantha on low-medium flame until it gets brown spots. Press down the parantha with a spatula. When the parantha is roasted well, take off from tawa and place over a bowl kept above the plate. Similarly prepare remaining paranthas as well.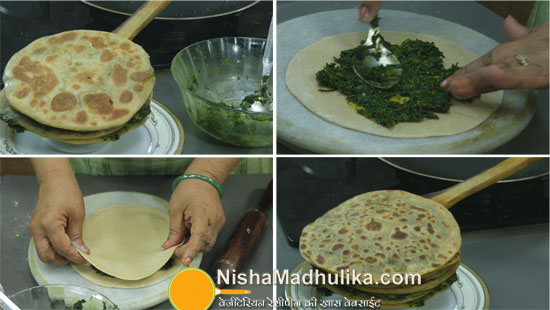 Other ways to stuff the paranthas
Break small lump from the dough and further divide it into two halves. Take one dough ball dust it with some dry flour. Now roll it out into 5 to 6 inch diameter and place above a plate. Roll the other lump as well and place some stuffing over it leaving the edges. Now place the other rolled parantha over this and press down the edges with your finger to stick both the rotis together. Roast this parantha similarly as above.
Nutritious and mouth drooling spinach stuffed paranthas are ready. Serve these paranthas steaming hot with chutney, curd, raita, pickle or any other curry of your taste and relish eating.
For making 7 paranthas.
Suggestions
You can use oil instead of ghee.
You can keep the size of parantha big or small as per your preference.
Instead of ginger paste, 1/2 inch grated ginger baton can be used.
You can skip the step of applying ghee prior placing the stuffing.
Avoid keeping the steaming hot paranthas directly over the plate as they will turn soggy from beneath.
The other method for making parantha is easy and you can stuff them more with the filling.
Keep adjusting the flame while roasting the paranthas. If you feel that the parantha is really turned hot then reduce the flame and when the tawa starts turning cool increase the flame.
Palak Bharwan Paratha - पालक भरवां परांठा - Spinach Stuffed Paratha
Tags
Categories
Palak Bharwan Paratha - Spinach Stuffed Paratha
Nisha Madhulika
Rating:

5.00

out of

5