Chashni Wali Gujiya - Mawa Gujiya Dipped in Sugar Syrup - HOLI RECIPES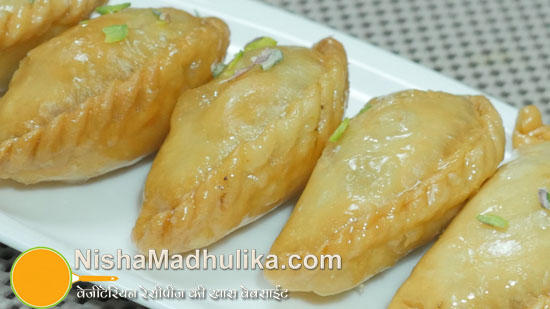 Super tempting, with thick cover and sugar dipped and sugar dipped mawa stuffed gujiya is a special treat for Holi.
हिन्दी में पढिये : Chashni Wali Gujiya - Mawa Gujiya Dipped in Sugar Syrup
Ingredients for Mawa Gujiya Dipped in Sugar Syrup
Plain flour- 2 cup ( 250 grams)
Mawa – 1 cup ( 200 grams)
Powdered sugar- ½ cup ( 80 grams)
Sugar- 2 cup ( 400 grams)
Almonds- 2 tbsp (finely chopped)
Cashew nuts- 2 tbsp ( finely chopped)
Raisins- 2 tbsp
Green Cardamom – ½ tsp
Ghee- 3 tbsp ( 30 grams)
Pistachio- 1 tbsp ( finely shopped )
Ghee- for frying
How to make Chashni Wali Gujiya
Knead stiff dough
Add 30 grams of melted ghee in a refined flour and mix everything really well. Add lukewarm water in small portions and knead stiff dough. For this much dough half cup of water is used. Cover the dough and keep aside for 15 to 20 minutes to set.
Roast Mawa
Crumble mawa and roast it on medium flame while stirring constantly until there is slight change in the color and it turns fragrant. Transfer the roasted mawa in a separate bowl and let the mawa cool down a little.
Prepare Sugar Syrup
Take 1.75 cups of sugar in a vessel and cook until sugar dissolves completely. Keep stirring the syrup at regular intervals. When the sugar dissolves completely. let it cook for another 3 minutes.
Check the Syrup
Take some syrup in a spoon. After it cools down, take it between your finger and thumb. It should be gooey like honey. There is no need to look out for thread in the syrup. Sugar syrup is ready, take it off from flame and place over stand. Cover to prevent it from drying.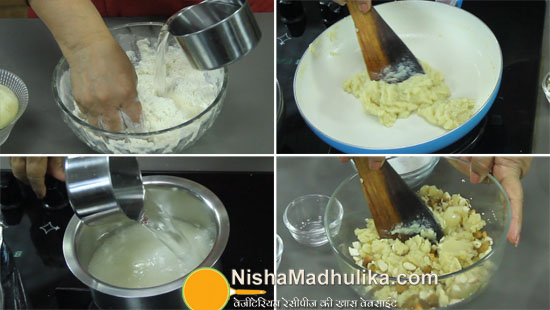 Prepare the stuffing
When the mawa is slightly warm, Add chopped cashews, almonds, raisins and cardamom powder. Mix everything really well. Let the mawa cool down completely and then mix powdered sugar to it.
Roll out poori for gujiya
Knead the dough again and make small lumps from it. Keep the dough balls covered to prevent them from drying. After this, take one dough ball and roll it into round shape and place over a rolling plate. Now roll out from the edges into 3 to 4 inch diameter poori. Roll it out evenly.
Stuff the gujiyas
Take poori in your hand and place some stuffing over it. Apply some water on the edges and fold into half. Stick the edges really well. Now start pinching and twisting the gujiya. For this, pinch the edges of gujiya from other hand and give a fold with the hand you are holding it. Again pinch at some distance and fold the forth portion. Likewise fold the entire edge of the gujiya. Place this gujiya over a cloth and cover it. Similarly prepare remaining gujiyas as well.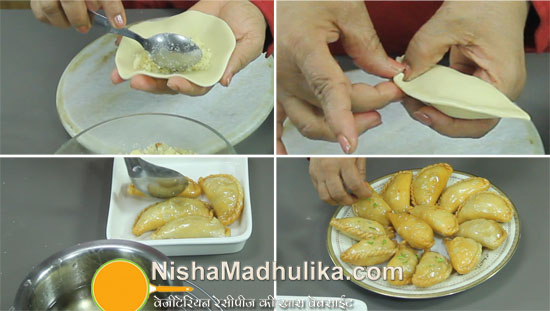 Fry the gujiyas
Take enough ghee in a wok and flame it on flame to heat. Drop small dough lump into the ghee to check if it is sufficiently hot. If the dough lump is frying gradually then the ghee is hot to fry the gujiyas. Reduce the flame to medium-low and drop the gujiyas in to ghee one by one. When the gujiyas float on the surface, flip the sides and continue frying until they turn golden brown in color.
Take out the fried gujiyas over a perforated ladle and hold over the wok for a while so that excess ghee drains back to the wok. Drain it out in a plate and similarly fry rest of the gujiyas as well. It takes 12 to 15 minutes for frying gujiyas at once.
Dip the gujiyas in sugar syrup
Drop the fried gujiyas in sugar syrup and let them remain drench for 3 to 4 minutes. After 4 minutes, take out the gujiyas one by one and drench the remaining gujiyas as well. Coat each gujiya with sugar syrup and keep them on a plate.
Garnish with some pistachios shavings. Sugar coated and sugar filled super scrumptious mawa gujiya is ready. Store them in any air tight container and relish eating for up to 15 to 20 days.
Suggestions
Instead of cardamom powder, peel the grind the 5 to 6 green cardamoms.
Knead little stiff dough, it should not be soft.
Don't mix sugar when the mawa is hot else it will melt.
You can adjust the quantity of dry fruits or use ones which you prefer eating and avoid adding those you don't like. You can take walnuts, pistachios and so on in dry fruits as well.
Don't roll out the poori for gujiya for center instead roll it our from the edges as it gets thin in the center and can splatter.
Make sure you break the gujiya with your finger or nail.
Fry the gujiyas on low flame and while frying keep the flame low. After 5 to 6 minutes if you see that the flame is too low then increase the flame a little.
For making 14 gujiyas.
Chashni Wali Gujiya - Mawa Gujiya Dipped in Sugar Syrup - HOLI RECIPES
Tags
Categories
Chashni Wali Gujiya - Mawa Gujiya Dipped in Sugar Syrup - HOLI RECIPES
Nisha Madhulika
Rating:

5.00

out of

5