Instant Dahi Vada with Rawa - Semolina Dahi Bhalla - HOLI SPECIAL RECIPES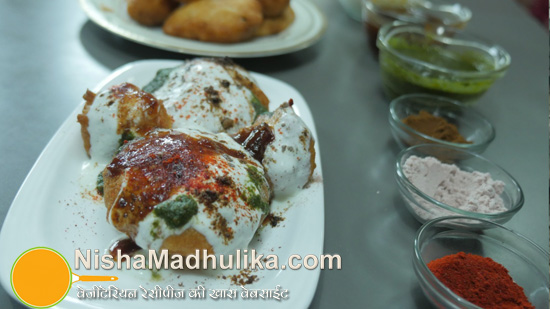 Everyone enjoy eating dahi vadas prepared with lentil but this festive season try out making these instant and easy to make sooji dahi vadas.
हिन्दी में पढिये :Instant Dahi Vada with Rawa - Semolina Dahi Bhalla - HOLI SPECIAL RECIPES
Ingredients for Semolina Dahi Bhalla
Semolina – 1 cup (180 grams)
Curd – 1 cup
Ginger – 1 inch (finely chopped)
Green chilies – 2 to 3 (finely chopped)
Salt – ¾ tsp
Baking soda – less than ¼ tsp
Oil – for frying vadas and pakodas
How to make Instant Dahi Vada with Rawa
Prepare batter
Take sooji and curd in a big vessel and mix well. Add salt, ginger and green chili to it as well and mix everything really well. Now cover and keep the batter aside for 10 to 15 minutes so that batter puffs up.
Prepare vadas
When the batter turns puffy, add baking soda to it and mix well. For making vadas, take a bowl and cover it with a wet cloth. Hold the cloth tightly at the back of the bowl. Apply some more water over the cloth. Place 1 to 2 tsp batter over the cloth and wet your finger with some water as well and make a round vada.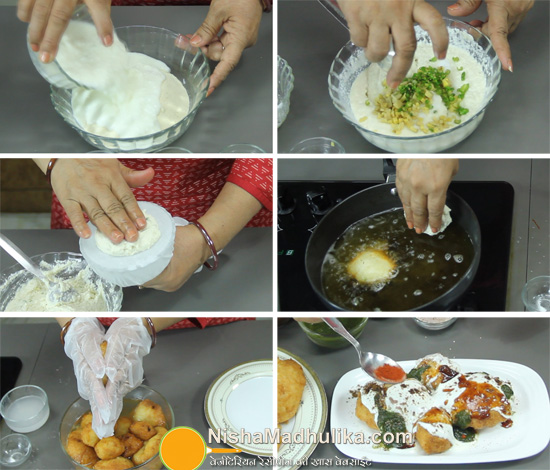 Fry the vadas
For fyring the vadas, take enough oil in a wok and place it on flame to heat. To check, bring your hand over the wok and you will feel the warmth. Oil is sufficiently hot, reduce the flame to medium and very cautiously slide the vadas into the hot oil. Similarly fry rest of the vadas as well. When the vadas get brown from beneath flip the side and continue frying until golden brown in color. Drain out the fried vadas and place them over a plate.
Now drench the vadas in water to make them soft and puffy.
Prepare pakoris
Make pakoris from remaining batter. Wet your hands with some water and make small lump from the batter. Make round shape and drop them in hot oil one by one. Fry until golden brown in color and take them out in a plate. Soak them in water as well.
Already soaked vadas have turned soft, drain them from water. Squeeze out water from the vadas and place them on a plate. Squeeze the pakoris as well and place them on a plate as well.
Dahi vadas are ready to be served. For serving, take them in a serving plate. For this place 2 vadas and 2 pakoris in a plate and pour 3 to 4 thick and whisked curd over them, followed by 1 tsp sweet chutney, green coriander chutney, some roasted cumin powder, black salt and red chilly powder. Dahi vadas are ready to eat. Tangy sweet and flavorsome sooji dahi vadas are ready, serve and relish eating.
Suggestions
Soaking vadas in water makes them tender and also excess oil drains out as well.
Don't over soak the vadas for too long else they can get too soft and will get difficult to take them out.
For serving the dahi vadas, we have taken thick curd but if you have little curd then take it in a cloth and drain out the excess water. Whisk and use it.
Sweet chutney is prepared with tamarind, dry mango chunks or dates and these recipes are available on my channel.
Instant Dahi Vada with Rawa - सूजी के झटपट दही वड़े - Semolina Dahi Bhalla - HOLI SPECIAL RECIPES
Tags
Categories
Instant Dahi Vada with Rawa - Semolina Dahi Bhalla - HOLI SPECIAL RECIPES
Nisha Madhulika
Rating:

5.00

out of

5