Instant Thandai Recipe - Thandai Powder - Thandai Masala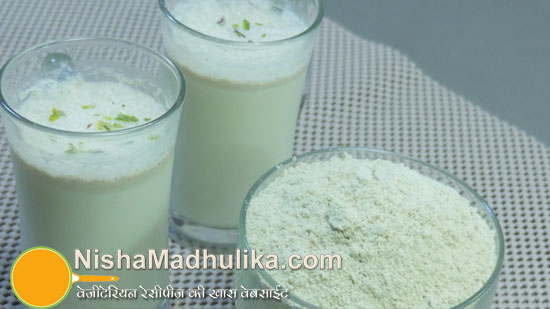 If you suddenly remember of making thandai on morning of holi then worry not this recipe of Instant thandai powder is for your rescue.
हिन्दी में पढिये : Instant Thandai Recipe - Thandai Powder - Thandai Masala
Ingredients for Thandai Masala
Sugar – 350 grams (1.5 cup)
Almonds – 60 grams (1/3 cup)
Pistachios – 30 grams (1/4 cup)
Muskmelon seeds – 30 grams (1/4 cup)
Fennel seeds – 30 grams (1/4 cup)
Cardamom powder – 10 grams (3 tsp)
Black peppercorns – 5 grams (1.5 tsp)
Milk – ½ litre
How to make Instant Thandai
Take fennel, black pepper and 100 grams o sugar in a mixer jar and grind finely. Place the ground mixture over a sieve and strain it. Again grind the left over chunks over the sieve along with sugar. Strain again and collect in a bowl.
After this, add almonds, pistachios, melon seeds, cardamon powder and remaining sugar in the mixer jar and grind finely. Mix this to the fennel and black pepper mixture and mix thoroughly. Strain this mixture again through a sieve to mix it well. Thandai powder is now ready.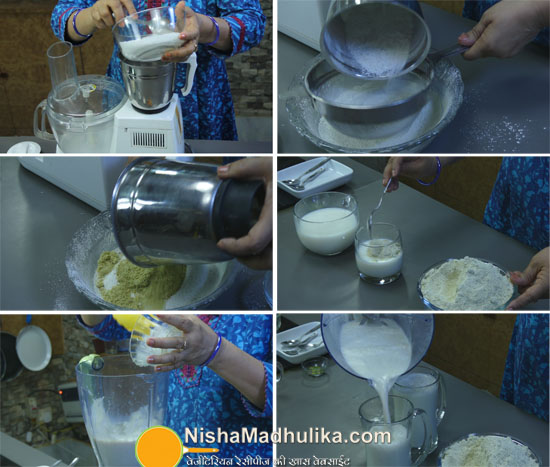 For making thandai from the powder
Take some milk in a glass and add 9 tsp thandai powder to it and stir to mx up thoroughly. Keep this mixture aside for half an hour. After half an hour, mix this thandai mix milk to the remaining milk along with some ice cubes and place it in a mixer jar. Mix until ice cubes blends well. Thandai is ready, transfer it a glass.
Garnish the thandai with some pistachios. Serve this chilled and super scrumptious thandai. Store the thandai powder in any air tight container and use for up to 2 months.
Suggestions
Mixing this thandai powder to milk and keeping it aside for half an hour gives better taste because in this half an hour dry fruits puff up and release their flavors. You can serve the thandai immediately as well.
Instead of cardamom powder whole cardamom can also be used. If you using whole cardamom then peel them first and grind the seeds along with fennel.
You can use fresh raw milk for making the thandai or boiled milk can be used which is chilled.
For 1 glass of thandai 3 tsp thandai powder is sufficient.
Instant Thandai Recipe - Thandai Powder - Thandai Masala
Tags
Categories
Instant Thandai Recipe - Thandai Powder - Thandai Masala
Nisha Madhulika
Rating:

5.00

out of

5