Ghugni Choora Recipe - Chiwra/Choora with Ghugni Recipe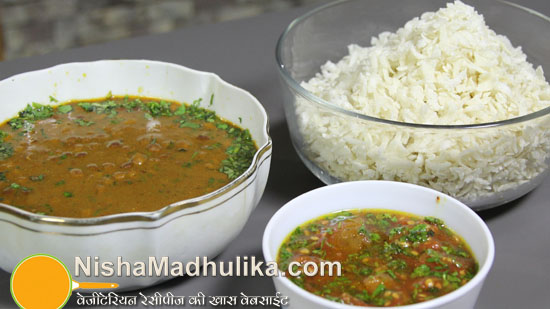 One the traditional food of Bihar Ghugni choora taste super tasty when served with tomato chutney.
हिन्दी में पढिये : Ghugni Choora Recipe - Chiwra/Choora with Ghugni Recipe
Ingredients for Chiwra/Choora with Ghugni Recipe
For making Ghugni
Desi chana - 1 cups
Tomatoes - 3 (250 grams)
Ginger piece - 1 inch
Green chili - 2
Mustard oil - 2 to 3 tbsp
Green coriander - 2 to 3 tbsp (finely chopped)
Desi chana - 2 tbsp (for masala)
Asafoetida - 1 pinch
Cumin seeds - 1/2 tsp
Coriander powder - 1 tsp
Salt - more than 1 tsp or to taste
Turmeric powder - 1/4 tsp
Red chili powder - 1/4 tsp
Garam masala - 1/2 tsp
For chutney
Tomatoes - 2
Green coriander - 2 tbsp (finely chopped)
Green chili - 2 (finely chopped)
Mustard oil - 1 tsp
Salt - more than 1/2 tsp 
How to make Ghughni Choora
Soak the chana in water for 8 to 10 hours. After this, rinse them well and drain out the water. Take tomato, green chili, 2 tbsp and ginger and make a fine paste.
Heat a pressure cooker with some oil. When the oil is hot, splutter cumin seeds in it. After this add asafoetida, turmeric powder, coriander powder, tomato-ginger-green chili-chana paste and red chilly powder. Stir after every 1/2 to 1 minute and saute until oil starts separating from it.
When the masala is roasted well, add chana and salt to it. Mix and saute for a minute. Now add 1.5 cups of water and close the pressure cooker with lid. Cook until it whistles once on high flame.
Meanwhile roast the tomatoes as well. Place a net stand over flame and place the tomatoes over it. Roast the tomatoes from all sides. When the tomato's skin turns little black in color, take them off and place over a plate. Let the tomatoes cool down a little and then prepare the chutney.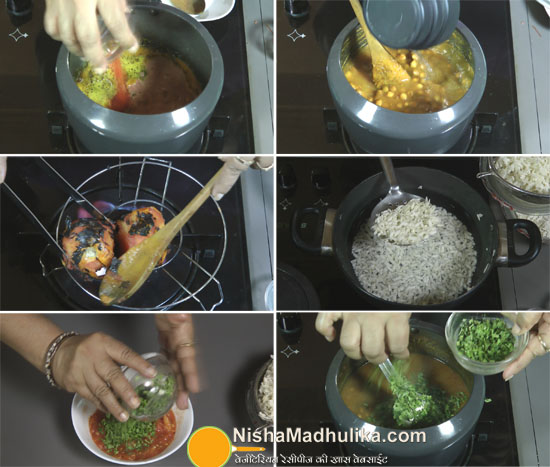 When it whistles once, reduce the flame and let it cook for another 6 to 7 minutes. After 7 minutes, turn off the flame and let the steam escape on it own.
Meanwhile, dry the choora. Heat enough oil in a wok and drop some choora to it to check if the oil is rightly heated and the chooras are getting puffy. Oil is sufficiently hot, add small amounts of choora to the oil. When the choora starts floating on the surface, transfer it to a sieve kept above the bowl so that excess oil drain out to it.
For making the chutney, when the tomatoes cool down, peel the skin and mash them. Mix green coriander, salt, green coriander and mustard oil to the chutney and mix everything really well. Roasted tomato chutney is ready.
On the other hand, open the lid of pressure cooker and check if the chana are cooked through. Mix green coriander and garam masala to it. Take ghugni to a bowl and garnish with some green coriander. Ghugni choora is ready.
For serving the ghugni choora, take 2 to 3 tbsp ghugni in a bowl, 2 to 3 tbsp choora and take tomato chutney in a small bowl and relish eating.
Suggestions
Use the thinner flatten rice for choora
You can also prepare ghugni with peas instead of desi chana.
Ghugni Choora Recipe - Chiwra/Choora with Ghugni Recipe
Tags
Categories
Ghugni Choora Recipe - Chiwra/Choora with Ghugni Recipe
Nisha Madhulika
Rating:

5.00

out of

5